Springtails are small insects which thrive where there is a lot of moisture. They can be white, tan, brown and black and during the warm season may be seen in bathrooms, kitchens, basements, crawl spaces, behind walls, under siding, under mulch and just about anywhere moisture is prevalent and persistent. Springtails do not do damage but we do get reports of customers being bitten by them when they emerge en mass and appear in living spaces. For this reason people fear the worse when they start showing up inside the home.
Springtails are commonly mistaken for fleas, ants, booklice, bark lice or psocids. Also known as Collembola, springtails eat mold, mildew, fungus and decaying organic matter commonly found in moist areas on and around the home.
They can be found in great numbers in homes which have been built for several years or in homes which are new. And though they seem to just "appear" from nowhere, in fact they take a long time to reach the numbers required for them to over populate and be forced to migrate. Unfortunately, once they reach that level and start migrating up and out of the soil, anything in their way will get infested.
SPRINGTAIL BIOLOGY *
Springtails prefer to live under slabs, mulch, around drain lines, under house siding or under piles of wood. They will readily move under siding if moisture collects and from there they will move under the siding, into wall voids and eventually inside living spaces.
Springtails are readily found in any soil, leaf litter or mulch and survive well under slabs, under bathtubs and basically anywhere both dark and moist. The author has inspected many homes where large populations were found to be in wall voids, inside rain gutters, in the water closet of a toilet and under roof shingles. On many occasions the numbers were in the tens of thousands. This occurred because the population was never treated and when conditions are prime, they will multiply at alarming rates.
Springtails will develop into many sizes and shapes – even in the same colony – but the one constant among them is their ability to jump. They have an appendage, called a "furcula", which loads like a spring. When threatened, they will release this spring and propel themselves away from danger – hence the name springtail. They will move in short runs, then rest, and then move again.
Springtails come in many colors and shapes. Young can be clear to white like a small termite. And some species are curled like a flea; others are flat like a psocid or silverfish.
CAN SPRINGTAILS SURVIVE IN THE WINTER? *
They most certainly can survive in the winter. In fact springtails can withstand extremely cold temperatures and are known to emerge any time of the year. In fact, its not uncommon to find them active in the middle of the winter. On any warm sunny day during the winter, populations thriving alongside a warm foundation wall will readily migrate up and into wall spaces, door frames or in some cases, out over the top of cold snow.
Of course these migrating springtails will die if they don't get back down in the soil but seeing them during the winter is a sure sign of a problem that needs to be treated and not ignored.
SPRINGTAIL PROBLEMS *
Springtails become a problem in and around the home when they begin to appear inside, around pools or in garages. The first time or two they emerge no one may notice. Once they establish themselves, however, their numbers will be so large that they will be very evident when they come out. Expect to see tens of thousands of them as they cover the kitchen floor, sinks, tubs, basements, pool areas and patios. It's important to understand that this behavior is just a symptom of the real problem. In other words, what you are seeing is not where the problem resides but rather a migration of them from an overly populated area in search of somewhere new that they can infest.
WHERE ARE THE SPRINGTAIL NESTS? *
First, understand that springtails migrate when populations in main nest sights get over congested and dense. And the original nests sights always start in the ground. It can be pretty much any place but commonly locations are under mulch, around down spouts, under patio slabs, wood piles, weed shields (plastic tarps placed on the ground to stop weeds from growing), around sprinkler heads, septic tanks, drain ditches, flower beds, ponds, streams, rivers and pretty much any where it's moist.
Second, because most any yard will have several nest sites, it's important to look at the whole yard as one giant nest. Using this approach, you'll assuredly get them whereas trying to spot treat is likely to fail.
Third, understand that from the ground, springtails will migrate up onto homes and at first, move under the homes siding. In fact many homes have springtails under their siding but don't ever know because they never come inside. But if the population gets too dense under the siding, they will then migrate from there through windows, door ways, light fixtures and into living spaces.
Lastly, springtails will readily migrate up through drain lines and commonly appear in kitchen and bathroom sinks as well as showers and tubs.
SPRINGTAILS NEED MOISTURE *
Moisture is the one key variable all springtail populations need to thrive. So if you irrigate the turf and flower beds around your home, you will no doubt be "fertilizing" the local population. In humid regions, the springtails in the soil will readily over populate forcing them to migrate up and into homes.
If your home has a crawl space or basement with springtails, check the air moisture with a HUMIDITY METER. If these areas have excessive moisture, install a dehumidifier to help reduce this level.

For crawl spaces, install TEMP VENTS to help reduce this moisture. They fit in the common hollow block hole 8″ tall by 16″ wide and automatically open and close with the changing temps. This insures hot humid air can escape but as it cools outside, they'll automatically close up to keep the heat in.

HOW TO CONTROL SPRINGTAILS *
Springtail problems can take years to develop. In fact they exist in all climates and will readily thrive in the hot southern states or up north where it gets cold and stays cold for 5-6 months a year. Springtails are very much a part of nature and as such fundamental to the recycling of all things organic. Much like termites are natural recyclers of wood; springtails are natural recyclers of plant life.
And even though moisture is directly related to their survival, its important to understand reducing moisture will not eliminate the problem. Reduced moisture will reduce their numbers. And in living spaces, any house using air conditioning will have an environment "tough" for springtails to use. But if it takes 5-7 days for them to die after they migrate inside and they keep migrating inside daily, they'll be replacing the dead ones faster then they're dying which means the amount you see will look like its getting worse with every passing day.
WHAT TO EXPECT WHEN TREATING FOR SPRINGTAILS *
Now once you start treating a springtail problem, you should expect the process to take a good 2-3 months. Outside applications will eventually end the migration inside. But seeing them inside will be ongoing. Or at least it typically is if you're already seeing them inside. The key is understanding that if you treat the outside on the schedule we advise below, you will reduce and eventually eliminate the ones entering your home. And once this happens, you won't be seeing any inside. At least any more "new" springtails.
THE THREE STEPS TO SUCCESSFUL TREATING SPRINGTAIL PROBLEMS *
In most cases, only two "steps" will be needed to get the problem under control. But if it continues to be an issue after 2 months, you'll probably need to do the third treatment step too.
Since springtails come from outside, the most important step is treating the homes perimeter. This will be done with granules and liquid spray.
Once the outside is treated, problems inside can be addressed using an aerosol and in some cases a liquid spray. If you see them coming out of drain lines and gathering in a sink, tub or shower, you'll need to use a drain line treatment too.
Lastly, if the outside and inside have been treated thoroughly for 2 months or more and you're still seeing them appear inside, you'll need to treat voids using a dust.
START OUSIDE WITH THE BEST LAWN GRANULES *
BIFEN GRANULES are weather resistant and do a great job of penetrating mulch and other damp areas where springtails are known to hide. Treat a band around the home covering at least 10 feet out from the foundation. This will eventually give you a "springtail free" zone on all sides with dirt, mulch, pine straw, etc. Remember, granules are slow to release but this is fine and very much the whole point of using them.
Expect to use around 2 lbs of granules per side of the home; most homes will need 5-10 lbs applied once a month.
Any "push" type fertilizer spreader can be used to apply the granules; if you have a lot of flower beds and ground cover making that style impossible to use, go with a HAND SPREADER.
Now if you're in a state where we cannot ship the Bifen, to with either COMPLETE LAWN GRANULES or  ESSENTRIA EXEMPT GRANULES.
The Complete Granules uses an active similar to Bifen and is very much a true insecticide.
Essentria is made from food grade actives and is considered to be the "green" or "organic" option meaning it has a very low impact on the environment. But it works well for springtails and other pests and treatments will last just as long
Use the Complete Lawn granules at the same rate as the Bifen; 2 lbs per side of the home on average and retreat once a month.

Same with Essentria. 2 lbs per side of the home on average and retreat once a month.

BEST OUTSIDE SPRAY FOR SPRINGTAILS *
Immediately after you apply the granules, you'll need to spray to get them activated. This can be done with a sprinkler system but the preferred way is to use CYONARA RTS over the top.
This concentrate hooks to your garden hose and is ready to go. Use it safely over ground cover, flowers, mulch, grass and even vegetable gardens. Spray the homes siding too. In general you'll want to spray "up" as high as your garden hose water pressure will go.
Cyonara will cover up to 15,000 sq/ft well and in general, one quart will be enough to treat around the home at least 2-3 times. Expect to use Cyonara as is needed. So if you treat on a Saturday and note new springtails on the homes siding in just 4-5 days, spray again. The granules only need to be applied once a month but the Cyonara should be used as is needed until the problem is under control.

If you have a large home or lot and expect to be spraying on a regular basis, get BIFEN XTS. This concentrate will cover a lot more area and save cost over time. Mix it at 1 oz per 5 gallons of water and use this to cover up to 5,000 sq/ft. That means a quart of Bifen will cover up to 4 acres so its the equivalent of 12 quarts of Cyonara. This means its about 12 times as powerful but even so, you'll need to use it over and over just like the Cyonara. At least that's typically whats needed for the first 1-2 months.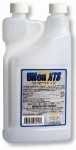 You will need a good HOSE END SPRAYER to apply the Bifen. Using our sprayer, you'll want to add just 1 oz of Bifen and to the sprayer and then fill it up to the 5 gallon line. Next, hook it to your garden hose and use the entire tankful to cover up to 5,000 sq/ft of surface area.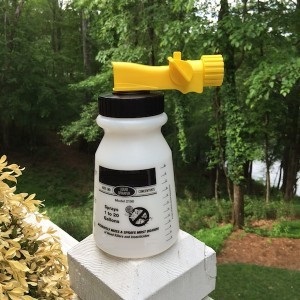 Regardless of which concentrate you choose, the key to success is how you apply them. Springtails are small and can easily hide. But these products will knock them down. But you must use a lot of water to distribute the mixture. In fact this is why using a regular pump sprayer just won't cut it; you need a lot of water to get the most "coverage" and your garden hose with a garden hose sprayer is well suited for this job.
Now if you want to use a "green" product instead of the Bifen or Cyonara, ESSENTRIA IC is basically the liquid form of the granules mentioned above. Use it at the rate of 2 oz per gallon per 1,000 sq/ft in the hose end sprayer above and you'll get the same results as either Bifen or Cyonara. But it won't last as long so you may have to treat more often. Essentria can be used inside, outside, and since its made with food grade actives, can be used safely in any kind of "sensitive" environment.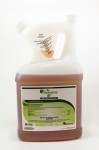 BE THOROUGH WHEN SPRAYING! And when treating, you need to cover everything. This includes the turf adjacent to the home like mulch piles, flower beds and any other area where close to the home. And don't forget to spray the side of the house. Go up 5-8 feet letting the solution cover everything including the foundation and siding.
Cyonara or Bifen will provide a quick knockdown so you'll see instant results with any exposed springtails dying within a few hours. And the water used to apply it will help get the Bifen going into the soil which is fundamental for the long term control of springtails.
The following video goes over the treatment of soil around the home for springtails.
HOW TO TREAT SPRINGTAILS UNDER PATIO AND POOL DECKING *
Springtails nesting under pool decking, patio slabs or slab homes need to be treated directly and this cannot be done with granules and liquids. In fact the way to treat these infestations is to go about it like one would do a termite job. This involves drilling holes every 16-24 inches through the cement and then pumping BIFEN XTS under the slab using a FOAM INJECTOR.
Bifen XTS is very active on springtails and should be mixed at the rate of 1/2 oz per gallon of water.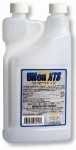 Foam 1 gallon of mixed mater for every 10 feet of cement using a FOAMING TOOL. These applicators convert water mixtures into a thick foam so when you treat under a slab, the foam "carries" the Bifen up onto the bottom side of the slab. You'll need to add some FOAMING AGENT to the tank mix so the foam is good and thick but for homes with springtail infestations, this is usually the only treatment that will stop them from nesting under the home. Springtails commonly nest on the bottom side of the slab surface and if the dirt under the slab has settled, treating with just a liquid won't fill the gap and "carry" the active up to the slabs bottom where its most needed.


Add 1 oz of Foaming Agent to each gallon of mixed solution.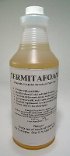 HOW TO TREAT SPRINGTAILS UNDER EXTERIOR SIDING *
Since springtails are migrating from the ground up and onto structures, they will many times get underneath wood, vinyl or aluminum siding. When homes get this kind of siding installed, it will many times hold moisture which in turn can grow mold, algae and other organic life forms springtails need. So once springtails find these locations, it's just a matter of time before they start living and breeding in these areas.
If you're seeing springtails active on the homes exterior siding, there is a good chance some have foraged into these voids. And since leaving them free access to this space is just letting them get that much closer to invading your living space, it's always best to start treating under the homes siding as soon as any are seen active and foraging about in these areas.
The best product for these areas will be DELTAMETHRIN DUST. This dust is like "baby powder" but its moisture resistant and can be "puffed" up and into all the gaps and voids. Dusting will last several months and if you do a good soil treatment with the granules and liquid spray, you may not have to treat these areas again.
Use Deltamethrin Dust at the rate of 1 lb for every 1,000 sq/ft of siding.

Apply the dust with a good HAND DUSTER.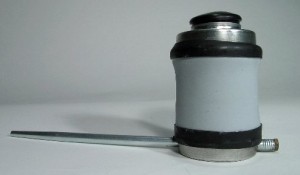 SPRINGTAIL SPRAY FOR INSIDE THE HOME *
Once springtails start migrating up the homes foundation, its only a matter of time before they start appearing inside living areas. Depending on where you're seeing them in the home, there are a range of treatments to use.
SPRAY AROUND WINDOWS, DOORS AND BASEBOARDS *
Use PT-PHANTOM AEROSOL around windows, doors and baseboards. Phantom uses a non repellent active which won't kill them quickly. In fact treatments will take 2-3 days to kill them. But during this time it will "spread" from one springtail to another as they move about in masses. This means the treatment will work on many more by affecting them as it spreads something traditional pesticides won't do.
SPRINGTAILS IN BATHROOMS *
Bathroom walls, tubs and showers are springtail magnets. And if your home is built on a slab, it's especially prone to springtail invasions at this exact location. This is because tubs, showers and toilets commonly sit over "holes" in the slab that are much larger compared to where pipes pop through. Known as a "tub box" or "bathroom trap", these areas are left open so plumbers can have access to drain lines should the need for service under the slab become necessary. Unfortunately these areas tend to collect a lot of moisture along with lot's of insects like springtails.
Once they come up at this location, you'll start seeing them coming out of caulking, around faucet handles and shower heads. They'll even appear in the tub or shower stall.
Use the PHANTOM AEROSOL listed above for these areas. Its low odor and ideally suited for bathrooms as well as most all sensitive areas in the home.
HOW TO GET RID OF SPRINGTAILS IN YOUR SINK *
Springtails commonly appear in sinks and this will happen because drain lines are a direct pathway inside most any home. Here are some images showing a mass of springtails around a kitchen sink.
Remember, drain lines typically run to sewer lines or septic tanks. Both of these locations are prime springtail nest sites and when populations are growing and expanding in these outside areas, migrating springtails will forage up drain lines and into your home. And once they come up out of the sink, they'll be looking for a place to start new nests.
So if you're finding springtails in your sink, you'll need to treat the cabinet, around the sink and down the sink drain with PT-CYKICK. This product is labeled for use down drains and will offer immediate relief. Use it nightly before retiring so the treatment can sit overnight allowing it to have maximum impact. And be sure to treat all sinks with throughout the home; even if you're not finding springtails it's best to give a few second blast down every shower, tub and sink drain to insure you get as many as possible.
Expect to use the Cykick as needed meaning that once you start seeing new springtails emerging following a treatment, don't wait. Treat again right away. It only takes a 2-3 second "blast" down the drain to get this resolved but once the spray dries, it won't kill them on contact anymore so if they come back in 3-4 days, treat again. And plan on doing the treatments at night, just before you retire, so it can sit all night long before getting washed away. Cy-Kick is odorless, fast acting and its formulation will naturally "penetrate" into deep cracks, crevices and grime where springtails like to nest and hide.

TREAT DOWN THE DRAIN FOR SPRINGTAILS *
Spraying down the drain with PT-Cykick will help kill off active springtails but it won't keep them from nesting in the drain line. Since most drains have a slime buildup of organic matter, you must reduce this using a product called SURVIVORS down the drain. This material will reduce and remove the organic matter on which springtails can live inside the pipe. Bleach, Drain-O and other cleaners won't remove this slime so don't waste your money using them. Survivors is made for this purpose and when combined with PT-Cykick, you can eliminate this area as a nest site for good.
Survivors contains bacteria which will "feed" upon all organic matter down any drain and effectively make it "useless" to insects. Using Survivors weekly will eventually remove enough of the matter so pests like springtails won't have enough food to live or nest in the pipes.
Treat one a night a week, just before retiring for the evening, so the treatment can "sit" overnight and work for a few hours before the water is run again. And it's okay to spray the PT-CyKick down the drain after Survivors has been added; in fact using both is the recommended best way to treat sinks.
Use 2-3 oz of Survivors per drain and make the applications once a week during the warm season.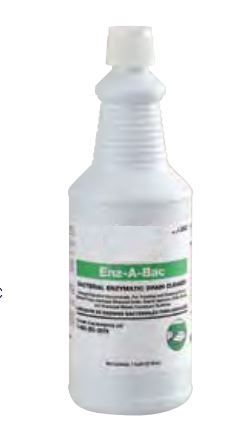 HOW TO TREAT SEPTIC TANKS FOR SPRINGTAILS *
If you have a septic tank in the yard or suspect there is a cracked drain line leading to the city sewer, you'll want to treat the dirt above and around the septic tanks and/or pipes out in the yard.
In some cases this will be easy. Septic tanks will many times have covers or caps that can be lifted. Gaining access to these areas will enable you to direct the treatment right where it matters.
Give the exposed soil, rocks and void a good spray down with the CYONARA RTS monthly to keep springtails and other pests in check. By killing them here they won't be able to follow your drain lines up and into the home when they migrate.
As listed above, one quart of Cyonara can cover up to 15,000 sq/ft of turf and should be applied at least once a month during the warm season.

If your septic tank system is covered in dirt, you'll need to use a less direct treatment method. Do this by applying BIFEN GRANULES applied over the top. Once in place, the granules will slowly release active down in the soil and eventually penetrating deep enough where it can adversely affect the reproducing springtails.
Apply 2 lbs of granules for every 1,000 sq/ft of turf.
SPRINGTAILS IN CRAWL SPACES *
If you have a moist, damp crawlspace with springtails, dusting with DELTAMETHRIN DUST once a year is the way to get such an area protected. The use of the Dust will provide a long residual and effectively reduce the amount of times you will have to treat.
Typically a good dusting will last at least 6 months and can easily last over a year.
Apply the dust at the rate of 1 lb for every 1,000 sq/ft of surface area. So if the space is 500 sq/ft, plan on using a full pound of dust because you need to cover the floor and the ceiling (which is the floor boards of above) since springtails will many times live up in the floor joists too.

For open spaces, use a DUSTIN MIZER to apply the dust. It can blow the dust a good 20-25 feet out insuring good coverage.

WHAT ABOUT USING A PEST CONTROL SERVICE COMPANY FOR SPRINGTAIL CONTROL? *
Are you currently using a pest control service company and still having springtail problems? We hear this complaint quite a bit and feel it's important you must understand that using a pest service company does not mean you'll instantly be springtail free. Remember, service companies will attempt to solve pest problems with as little product as possible and when it comes to springtails, this will many times result in prolonged infestations that seem to never end.
Additionally, it can sometimes be hard to get the company you hire to treat enough of the infested areas for the problem to be truly controlled. As explained above, springtail control will many times mean treating the entire yard, under cement slabs, under the homes exterior siding, in wall voids, down sinks and in some cases, under interior slabs. Most pest control service companies are not going to do this immediately so don't be surprised if you still have an ongoing problem even after months of relying on a service to handle the problem.
No doubt one of the biggest reasons their treatments are doomed to fail is because the customer forces the company to focus their time and effort treating areas out in the open. In other words, spraying where springtails are being seen. And as explained above, this will not get rid of the problem and in most cases, fail to do much of anything. True, any springtails out in the open will die. But because there will be a never ending stream of new springtails coming up from the ground, etc., more will replace the ones killed and in the end, it will appear the surface treatments aren't doing a thing. Well, if you don't persuade the company to treat where it will matter or do the work yourself, the problem will go on indefinitely.
Now we have seen many instances where customers use a service company to some work but end up doing a lot of treating themselves. This insures all the key locations are getting attention, etc. This also allows for applications to be made in between service visits which can really help.
And since the level of treatments needed for most springtail infestations isn't covered under regular pest control contracts, it's the only way for the problem to be handled quickly unless you pay for all the extra service that will be required.
In the end, as long as you or your service company (or both of you working together) are using the professional grade products we have listed above, springtails can be defeated. Just follow our guidelines making sure to identify the key locations and you can achieve success.


Springtails are a pest in and around the home throughout the United States. They are able to live in all types of soil and will thrive when wet, damp conditions are available. Though easy to kill, you must get to their nest sight if you intend on breaking their cycle and preventing massive migration and activity in the future. To do this you will need to use a combination of the products featured above. Two or three treatments will usually resolve any level of infestation along with moisture reduction and you should be able to knock them out once and for all.


HOW LONG WILL IT TAKE TO GET RID OF SPRINGTAILS? *
No one can answer that question for sure. But if you treat the outside as explained above, you will be stopping them from entering which is the first step. And once you get their nest "pockets" killed, you should end the sightings inside the home. But if you miss any nests between the ground and the inside areas, the problem will linger until you get chemical to these hidden locations.
For most homes, the problem can be greatly improved after just one treatment. And if you keep treating once a month with granules and spray the liquid and aerosols when you see new activity, the problem will be very easy to manage. The key is to keep treating even after they're gone.
The key is to not get frustrated or deterred once you begin. Springtail problems take years to develop and for this reason, you cannot knock them out with just 1-2 treatments. But if you stay the course, most problems will be gone within a month and after that, prevented by treating once every 1-2 months.
CONTACT US *
Give us a call if you need further help. Our toll free is 1-800-877-7290 and we're open Monday through Thursday, 8:00 AM to 7:00 PM. On Friday, 8:30 AM to 5:00 PM and on Saturday, 9:00 AM to 2:00 PM (Eastern Standard Time).
Email questions here:   http://www.bugspray.com/about-us/contact-us
Order online and get a 5% discount! We ship fast with 99.9% of all orders shipping within 1 business day!!


Learn more about BUGSPRAY.COM and why it's never been easier or safer to do your own pest control.


Please show your support for our business by purchasing the items we recommend from the links provided. Remember, this is the only way we can stay around to answer your questions and keep this valuable web site up and running. Thanks for your business!