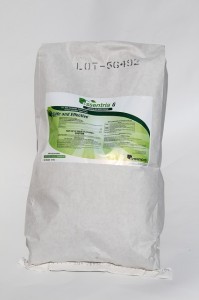 PRODUCT DESCRIPTION: Granular Insecticide (22 lb.)
* Quick knockdown/kill
* Residual protection
* Flexible label
* Low aquatic toxicity
* Broad spectrum
* No watering requirements
* Botanical scent
TARGET PESTS: Ants, Bermuda grass mites, centipedes, chiggers, chinch bugs, clover mites, cockroaches, crickets, earwigs, fall armyworms, fire ants, fleas, leafhoppers, millipedes, sowbugs/pillbugs and other insect pests.
DIRECTIONS FOR USE: Essentia is intended for outdoor applications using a hand-operated spreader or equivalent equipment such as shaker cans.
For Exterior Perimeter Treatments: Apply uniformly to ground area 5 to 10 feet wide around and adjacent to structure.  Apply 2 to 5 lbs. per 1000 sq. ft. (rates depend on severity of infestation). Repeat as necessary.
For Ant Mounds/Nests: Sprinkle 1 to 2 teaspoons over the nest. For red imported fire ant mounds, use up to 1/2 cup (8 tablespoons) over each mound and up to 2 feet around each mound.
For Turf / Landscape Treatments: Apply at a rate of 3 to 5 pounds per 1000 square feet. For best results, water grass with 1/8 to 1/4 inch of water but stop watering before puddling occurs. Repeat as necessary.
PRODUCT DOCUMENTS:       SPECIMEN LABEL       MSDS SHEET
$65.00   (453439) 22 lb. (3+ for $55.00 ea)
Order online and save 5%





INTERNATIONAL CUSTOMERS ORDER HERE


Supporting Video