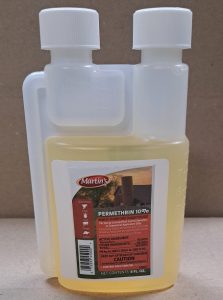 PRODUCT DESCRIPTION: Odorless concentrate labeled for use in and around homes. Easily mixed with water.
TARGET PESTS: Many pests for both outside and inside the home. Also labeled for use on dogs, cattle and other animals for lice, ticks and fleas.
WHERE TO USE IT: It is labeled for use on carpets in homes, furniture, cabinets, pantries. It's also for use outside in the yard and around the foundation of the home for perimeter pest control. Labeling also allows for it to be applied to pets and clothing as a pest repellent.
RATE OF APPLICATION:   Generally for most insects, 4 ounces to a gallon of water will work although a more concentrated mixture may be made. One gallon will cover up to 800 sq/ft.
When using as a clothing soak, mix 2 oz per gallon of water and let garments sit overnight and then allow them to dry before wearing.
When using as a pet or livestock dip, add 2 oz per gallon and sponge or spray on animal to keep away fleas, ticks and biting flies.
RELATED PRODUCTS:          PUMP SPRAYER
PRODUCT DOCUMENTS:       SPECIMEN LABEL       MSDS SHEET
$15.00   (455645) 8 oz (2+ 8 oz. $12.50 ea.)
Order online and save 5%


$25.00   (455641) 16 oz
Order online and save 5%


$35.00   (455643) 32 oz
Order online and save 5%


$100.00   (455647) gallon
Order online and save 5%






OTHER PERMETHRIN PRODUCTS:     PERMETHRIN 36% SFR       VEGETABLES PLUS FOR GARDENS 10%        PERMETHRIN AEROSOL FOR CLOTHING        PERMETHRIN "READY TO SPRAY" FOR CLOTHING       PERMETHRIN CONCENTRATE FOR  SOAKING CLOTHING       PERMETHRIN NON-AEROSOL "READY TO SPRAY" FOR CLOTHING


Supporting Video