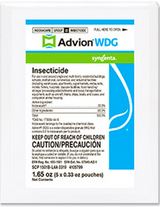 PRODUCT DESCRIPTION:  A general surface, crack and crevice and/or spot treatment for residual and contact control of Ants (including but not limited to Argentine, Carpenter, Odorous, Big Headed, Harvester, Odorous House, Red Imported, and Southern Fire; excluding Pharaoh), Asian Lady Beetles, Bean Plataspid (Kudzu Bug), Bed Bugs, Beetles (including Confused Flour Beetle, Granary Weevil, Lesser Grain Borer, and Warehouse Beetle), Brown Marmorated Stink Bugs, Centipedes, Cockroaches (including American, German and Turkestan), Collembola, Crickets, Earwigs, Fleas, House Flies, Millipedes, Mosquitoes (Anopheles), Paper Wasps, Pillbugs, Sowbugs, Spiders (excluding Brown Recluse), Stored Product Pests (Confused Flour Beetle, Granary Weevil, Lesser Grain Borer, and Warehouse Beetle) and Yellowjackets.
HOW IT WORKS:   Advion is unique in that first, its not detectable by target pests. This means they'll readily walk over it all the while picking up bits of the active and in turn, bringing it back to their nests. After a few days, the amount they bring back will be significant enough to "kill" the entire nest. Since 998% of all actives are "repellent" and work the exact opposite way, Advion is best for what we call "communal" or pests that live in colonies that communicate all the time. These types of insects are super vulnerable to how Advion works so even if they have several "satellite" colonies (like most all ants), they're sharing of food and other resources will end up being their demise once Advion infiltrates their nest.
MIXTURE RATES:  1-2 packs per gallon of water. Treat every 2 weeks till pests are gone then every 2-3 months to prevent re-infestation. 1/2 gallon of mixed spray will cover up to 500 sq/ft.
PRODUCT DOCUMENTS:       SPECIMEN LABEL     SAFETY DATA SHEET

RELATED EQUIPMENT:          PUMP SPRAYER
$15.00  (1 pk)  (811803) (3+ pks – $13.00 ea)
Order online and save 5%