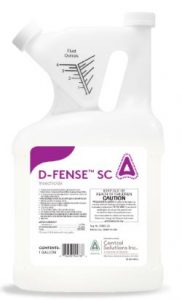 PRODUCT DESCRIPTION:      Low odor white liquid which is mixed with water and sprayed for pest control. As a micro-encapsulated concentrate, treatments will lay on surfaces better than emulsifiable concentrates and will last longer because of this physical trait.
WHERE TO USE IT:       Outside on the foundation wall creating a wide band of treated surfaces to stop invading pests. You may need to spray the whole side of a building if the migration is severe. Also use it along the border of where mulch, turf and cement meet. Can be applied around plants and shrubs, air conditioners and decks.
Inside the home D-Fense can be used for a wide range of pests along baseboards, on carpeting and in crawl spaces.
TARGET PESTS INCLUDE BUT NOT LIMITED TO:     Ants, army worms, asian lady beetles, bees, bedbugs, bluegrass weevil, boxelder bugs, carpenter ants, carpenter bees, carpet beetles, cecid flies, centipedes, chiggers, chinch bugs, cloth moths, cockroaches, crickets, cutworms, earwigs, elm leaf beetles, elm spanworms, fall webworms, fire ants, firebrats, flea beetles, fleas, flies, fungus gnats, gnats, grass hoppers, green striped mapleworm, ground beetles, gypsy moths, hornets, japanese beetles, june beetles, killer bees, lace bugs, lady bugs, leaf feeding caterpillars, leaf hoppers, leaf rollers, leaf skeletonizers, lice, loopers, mealybugs, midges, millipedes, mimosa webworms, mites, mole crickets, mosquitoes, moths, oak worms, pantry pests, pillbugs, pine sawflies, pine shot beetles, pint tip moths, pinyon midges, plant bugs, redhumped caterpillar, red imported fire ants, sawfly larvae, scale insects, scorpions, silverfish, sod webworms, sowbugs, spanworms, spiders,  springtails, tent caterpillars, termites, ticks, yellowjackets, yellownecked caterpillar, wasps, webworms, willow leaf beetles, wood infesting beetles.
RATE OF APPLICATION:         Mix 1/4, 1/2 or 3/4 of an ounce to a gallon of water and apply with any standard PUMP SPRAYER.  1-2 gallons of mixed material are generally required with the initial application to control migratory pests. You may be able to decrease the amount of material being applied once the target pest activity decreases. You may need to treat every few weeks for several weeks if the infestation is severe; once every 1-2 months to prevent new problems from developing.
RELATED PRODUCTS:          PUMP SPRAYER
PRODUCT DOCUMENTS:       SPECIMEN LABEL       MSDS SHEET


$60.00   (455241) 16 oz
Order online and save 5%







$325.00   (794808) 128 oz
Order online and save 5%



Supporting Video