Everyone thinks of roaches as tiny creatures which invade dirty homes and apartments. In fact, there are many species of roaches in North America and most of them live outside. If given the chance, these "other roaches" will readily move into any home. Like most roaches, these creatures are active at night, crawl in kitchens and bathrooms, and is too fast to catch.
In case this is not the roach informatioin you were looking for, we have other in depth articles here:          AMERICAN ROACHES          GERMAN ROACHES          WATERBUG ROACHES
Other pantry pests:        ANTS        BLACK LARDER BEETLES        CABINET BEETLES        CIGARETTE BEETLES        CONFUSED FLOUR BEETLES         DRUGSTORE BEETLES        FRUIT FLY        GRAIN BORERS        HIDE BEETLES        INDIAN MEAL MOTHS         RED FLOUR BEETLES        RICE WEEVILS        SAWTOOTH GRAIN BEETLES
All other information:       PEST ARTICLES


LARGE ROACH INFESTATIONS *
Large roaches are common in North America. One of the most common is the American Roach. These large roaches generally exist outside. They live in wood piles, pine straw or wood chips. They may live in trees, bushes or plants. And since they exist alongside our apartment buildings and homes, they will forage inside for food and shelter. Once foraging inside, it is not unusual for them to start nesting in crawl spaces, attics or cabinets. And even though they do not breed as fast as German Cockroaches, they will infest a home or apartment over time.
If you are seeing Large Roaches in the kitchen area, the void between the kitchen cabinet bottom and the floor is a common nest site. Many times they will crawl into the holes around a pipe which is coming through a wall. Other times they may nest in ovens, refrigerators or dish washers. If you are experiencing a problem in upper level units, Large Roaches may be nesting in the attic. They love to take advantage of moisture which will build up around clogged gutters. When these gutters are cleaned, the Large Roaches will move into the attic. And since they travel further than a German Cockroach, it is not unusual for one nest to have foraging roaches getting into numerous units. If your house has a crawl space, you will find nests around points of entry. Typical points of entry include water pipes under the kitchen and bathroom, cable lines, or gas lines. All entry points from a crawl space must be treated to prevent infestations.
LARGE ROACH CONTROL *
There are two ways to deal with these Large Roaches. The first is preventive maintenance and we believe this is the best way. Make sure your gutters do not become clogged. They should be cleaned when needed and inspected to make sure they are doing their job. If any roof shingles need to be replaced, do not wait until major water damage occurs. When roof shingles are damaged, replace immediately. Water leaks may be small and hard to identify but insects quickly take advantage of such moisture. And when the leak is repaired, the bugs will persist. We know air conditioning leads to many pest problems. Moisture will accumulate around the units and pests will nest here. Make sure air conditioning units are draining away from the structure. Air conditioners are turned off in the fall and when you turn them off, you dry up the water supply for many pests. Once this supply of water dries up, these pests will forage inside.
If there is no water for them around the air conditioning units, you do not have to worry about these pests moving inside come the fall. Most people love a pretty garden. Pine straw and wood chips around the foundation are common. Such mulch provides year round nest sites. Whatever material you use will be breaking down and this breakdown creates heat and food. Large Roaches love this nest site and will live comfortably even when outside temperatures are freezing. If you have such sites, try to keep them dry. If you must water, periodic treatments of such sites will reduce the nesting and reproduction of Large Roaches. Other preventive measures include sealing windows, pipes, cables and siding with caulking. Vents to crawl spaces must be functional. Damaged siding should be repaired. Cracks in concrete walkways should be filled. Large Roaches are opportunistic. They will take advantage of any site which provides moisture and protection.
LARGE ROACH OUTSIDE BAIT *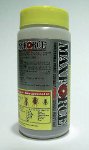 The second way of dealing with these Large Roaches is to treat their nest sites. Instead of waiting till they move inside, treat outside areas such as mulch beds. We recommend MAXFORCE GRANULES in these mulch areas. The granules will sink down to where it counts. Maxforce is labeled for ants and crickets, but Large Roaches find them very attractive. They are attracted to it and once they feed they will die.

Maxforce Granules: http://www.bugspraycart.com/bait/granule/maxforce-gran
LARGE ROACH CONTROL SPRAY *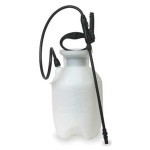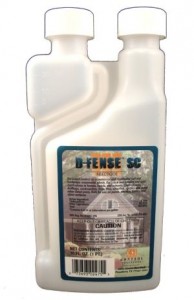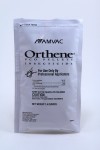 In addition to the Maxforce Granules, you should be spraying the foundation, window frames, door frames, decks, patios, and any route of entry with a liquid residual. ORTHENE WP is a great product as is DEFENSE SC. By treating the outside perimeter of your home, you will create a barrier the Large Roaches cannot get through. Use one of our SPRAYERS for applying the material. This treatment will work for other invaders as well, but really helps in controlling these large Large Roaches. If you feed your pet outside or have bird feeders, chances are some of these outdoor roaches are feeding as well. Over time, their population will swell. If left to nest on the side of your home around decks and windows, it is only a matter of time before they get inside. Start perimeter pest control to keep them out.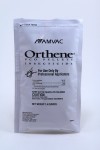 Orthene WP:  http://www.bugspraycart.com/insecticide/wettable-powder/orthene-wp-1-4-oz-pk

D-fense SC:  http://www.bugspraycart.com/insecticide/liquid/d-fense-sc.html

Pump Sprayer: http://www.bugspraycart.com/good/pump-sprayers
If the attic is infested, it's best to use a dry formulation called "dust". This treatment is very effective and lasts a long time. Spraying a liquid in the attic is almost useless because it is so dry and porous. Dusting lasts long and works a lot better. Large Large Roaches will move into attics if given the chance. Many attics which have roach problems had conditions outside the home which were conducive to having an infestation. The most common attractant is having your gutters clogged. The moisture which builds up supplies much needed water. Once established in the soffits and facia boards, they will move inside.
LARGE ROACH CONTROL DUST *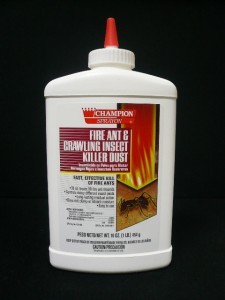 If your attic is dry, use the DRIONE. If you live in a humid area or have high levels of moisture in your attic, you will get better results using the DELTAMETHRIN DUST. Apply either of these products with a DUSTIN MIZER. It is easy to use and will distribute the dust ten to twenty feet. If the infestation has gotten into your crawl space, use the Deltamethrin Dust. It is formulated to handle the higher levels of moisture you would expect to encounter in a crawl. Either of these dusts can be used inside and can be applied with a HAND DUSTER but you will get better results using either of the following baits.

Drione:  http://www.bugspraycart.com/insecticide/dust/drione-dust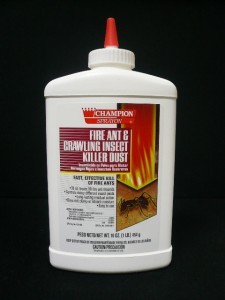 Delta Dust: http://www.bugspraycart.com/insecticide/dust/deltamethrin-dust

Dustin Mizer:  http://www.bugspraycart.com/equipment/dusters/dustin-mizerdeflector

Hand Duster: http://www.bugspraycart.com/equipment/dusters/crusader
If the infestation has made it to the living areas of the home, use a bait for quick and complete control. In general, these insects have come inside seeking food and water. The bait formulations we use today have high levels of moisture built in and have food additives Large Roaches cannot resist. Baiting requires less preparation and presents little if no hazard in the home to pets and children. The biggest advantage of using a bait for Large Roaches is that it takes the guess work out of getting control.
LARGE ROACH CONTROL – THE OLD WAY *
The old time approach to Large Roach control involved spraying everywhere. We treated all surfaces with the hope that nesting Large Roaches would walk over the residual pesticide. The end result is that you spray a lot and the roaches learn to avoid treated surfaces. If you are not able to deliver the product where the roaches are living and nesting, they will continue to prosper. This is no longer a problem when using the baits. Simply make placements where you are seeing activity. Keep these placements clean, dry and discreet. Make them about two feet apart.
LARGE ROACH CONTROL BAIT – INSIDE BAITING *


Large Roaches like to feed where they are nesting and you will be able to see their droppings when populations build up. Although there are many baits being produced, MAXFORCE GEL and ADVION are the two Large Roaches seem to like. These products will lure roaches and once they feed, they will die. If left undisturbed, these products will remain active for up to three months.

Roach Gel: http://www.bugspraycart.com/bait/gel/maxforce-magnum-roach-gel-1-oz

Advion Roach Gel: http://www.bugspraycart.com/bait/gel/advion-roach-gel
LARGE ROACH TRAPS *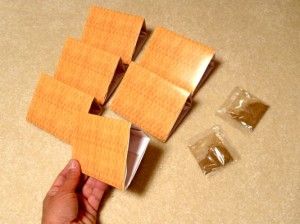 There are a few other tools which may help in your battle with these large Large Roaches. First, the installation of ROACH TRAPS can help by both catching any foraging as well serving as an early detection monitor. They are easy to use, can be set out anywhere without posing any type of hazard and are easy to maintain. It's a good idea to have them installed where you either know or think there may be some Large Roach activity; check them daily to see if your concerns were warranted. If you find any trapped, step up your control effort by installing some bait or doing some treatments.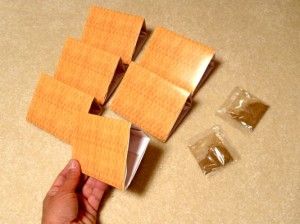 Roach Traps: http://www.bugspraycart.com/traps/pheromone-and-food/roach-trap-6-pack
LARGE ROACH HAND HELD ZAPPERS *


For the occasional pest that is seen during the summer months or after long periods of rain, get either the HAND HELD ZAPPER or our BUG VACUUM/ZAPPER. These tools are handy, easy to use and excellent to have around for most any pest. The Hand Held Zapper is better suited for flying insects though when placed over any large Large Roach and turned on, it will "fry" them in a few seconds. The Bug Vacuum is ideal because it allows you to both "trap" and "remove" crawling insects easily whether you are trying to do this on the floor, wall or ceiling. None of these tools are likely to control any type of infestation but all will help and are certainly adequate for the "occasional"s unwanted "intruder".

Hand Held Zapper: http://www.bugspraycart.com/traps/electric/hand-held-zapper

Bug Vacuum Zapper: http://www.bugspraycart.com/traps/electric/bug-vacuumzapper
Most Large Roach infestations are easier to control than German roaches. They take more time to develop and do so in smaller numbers. However, they are still roaches and most people will not tolerate sharing their living space with them. Preventive maintenance will stop them getting in; treating key nest sites will knock out existing populations.
CONTACT US *
Give us a call if you need further help. Our toll free is 1-800-877-7290 and we're open Monday through Thursday, 8:00 AM to 7:00 PM. On Friday, 8:30 AM to 5:00 PM and on Saturday, 9:00 AM to 2:00 PM (Eastern Standard Time).
Email questions here:   http://www.bugspray.com/about-us/contact-us
Order online and get a 5% discount! We ship fast with 99.9% of all orders shipping within 1 business day!!


Learn more about BUGSPRAY.COM and why it's never been easier or safer to do your own pest control.


Please show your support for our business by purchasing the items we recommend from the links provided. Remember, this is the only way we can stay around to answer your questions and keep this valuable web site up and running. Thanks for your business!