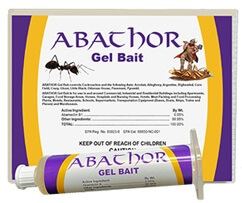 PRODUCT DESCRIPTION:    Only gel bait on the market that targets both ants and roaches. Using a special blend of fatty food and sugar sweet lures, ants and roaches can't resist eating it and within a few days, they'll die along with the others who shared the offer.
This short video (less than 1 minute) provides a quick summary of this product and why its smart to use when needing to bait for either roaches or ants.
For the best results, place baits where ants or roaches are active (not over any surface that has been sprayed) using our REFILLABLE BAIT STATIONS. Wipe out and refresh bait stations every 3 weeks.
PRODUCT DOCUMENTS:    LABEL

RELATED PRODUCTS:      REFILLABLE BAIT STATIONS 6 PACK
$20.00   1 oz Tube (153254)(3+ tubes $16.00 ea)(FREE STANDARD SHIPPING) 
Order online and save 5%