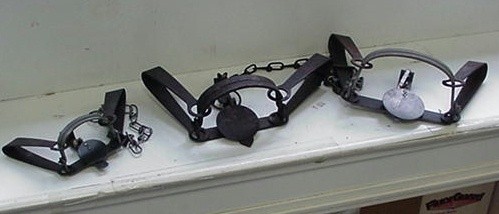 TRAP DESCRIPTION: Trap which catches small animals by their legs. These Leg Hold traps come in different sizes. They come with chains and should be attached to stakes which are then buried in the ground.
WHERE TO USE IT: Entrance ways to burrows, tunnels and other known pathways target animals are active.
RATE OF APPLICATION: The quantity of traps used or needed will vary depending on the target animal, the site where you are making the set and amount of animals you need to trap.
OTHER SIZES:       LONG SPRING 0      LONG SPRING 1      LONG SPRING 1.5       LONG SPRING 11      LONG SPRING 3      LONG SPRING 4      LONG SPRING 5      LONG SPRING 15 BEAR TRAP      LONG SPRING 16 BEAR TRAP
RELATED ACCESSORIES:     LONG SPRING TRAP SETTER      TRAP DIE BROWN      TRAP DIE BLACK
RELATED TRAPS:       BODY GRIP 55      BODY GRIP 110      BODY GRIP 120      BODY GRIP 160      BODY GRIP 220       BODY GRIP 280       BODY GRIP 330       BODY GRIP 330 EVEN JAW       CONIBEAR 110       CONIBEAR 120       CONIBEAR 220       CONIBEAR 280       CONIBEAR 330       COIL 1       COIL 1.5       COIL 1.5 PADDED       COIL 1.65       COIL 1.75       COIL 2       COIL 3        COIL 3 PADDED       COIL 5       COIL 1.75 OFFSET       COIL 2 OFFSET       COIL 3 OFFSET       COIL 5 OFFSET
$20.00   (825059)(6-11 Traps $18.00 ea)(12+ Traps $17.00 ea)
Order online and save 5%