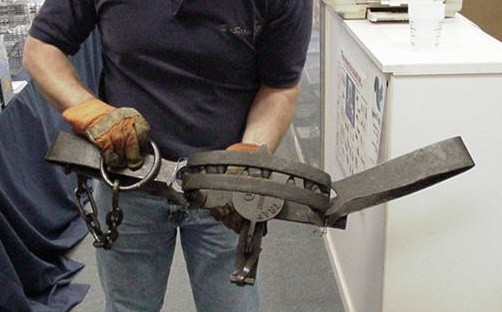 TRAP DESCRIPTION: Large trap used for bear, lions and other large pawed animals. Generally displayed only, this is a fully working double long spring design which can be set with a bit of patience and some BIG C-Clamps (view video below).
Slightly smaller than the # 16 BEAR TRAP in both weight, length and jaw width, the #15 is still massive. It tips the scales at 25 lbs and has a jaw spread of 12 inches. Commonly used for decoration or conversation piece, this trap is ready to be used afield for large nuisance animals.
HOW TO SET:  View the video below for setting directions. Keep in mind the video below shows a #16 being said but the same method is used to this the # 15.
OTHER SIZES:       LONG SPRING 0      LONG SPRING 1      LONG SPRING 1.5       LONG SPRING 11      LONG SPRING 2      LONG SPRING 3      LONG SPRING 4      LONG SPRING 5      LONG SPRING 16 BEAR TRAP
RELATED ACCESSORIES:       TRAP DIE BROWN      TRAP DIE BLACK
RELATED TRAPS:       BODY GRIP 55      BODY GRIP 110      BODY GRIP 120      BODY GRIP 160      BODY GRIP 220       BODY GRIP 280       BODY GRIP 330       BODY GRIP 330 EVEN JAW       CONIBEAR 110       CONIBEAR 120       CONIBEAR 220       CONIBEAR 280       CONIBEAR 330       COIL 1       COIL 1.5       COIL 1.5 PADDED       COIL 1.65       COIL 1.75       COIL 2       COIL 3        COIL 3 PADDED       COIL 5       COIL 1.75 OFFSET       COIL 2 OFFSET       COIL 3 OFFSET       COIL 5 OFFSET
$250.00   (825056)
Order online and save 5%


Supporting Video
[tubepress mode="playlist" playlistValue="10E99EC995F23850″]