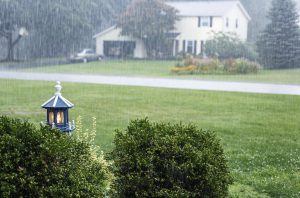 We get asked all the time about how rain might affect a treatment of our products to a yard or structure.
Though most people seem to"think" rain is bad and will have some adverse affect on their recent treatment, the fact is rain will generally help any application.
Why? Because water is essential to getting our products into the ground, cracks and crevices.
The following short video (less than 60 seconds long) gives a quick summary of why you have nothing to fear if rain is predicted to land on your property and you just sprayed. As you'll hear and see, the rain is a "good thing" and should be welcomed whether you've just applied our granules, bait or spray.
If you stop and think about it, most all of our products need to be mixed with water so they can be applied. So if water was a "bad" thing, it would not be used in the first place.
Now once a treatment dries, it tends to stay where it was sprayed. And if you have springtails or clover mites or mole crickets or termites or ants or any other insect living in the ground? The treatment will never reach them unless you either water it in OR it rains.
Conversely, SUNLIGHT IS ABOUT THE WORSE THING FOR ANY of our products. In fact direct sunlight will quickly break down most any of our chemicals and the main reason why spraying in the evening is always the best time to treat.
Treating in the evening insures the treatment can dry overnight having a good chance to take out active nocturnal pests AND setup so by the next day, its had time to creep into the ground before the sun starts breaking it down.
And if it was to rain the next day? All the more better.