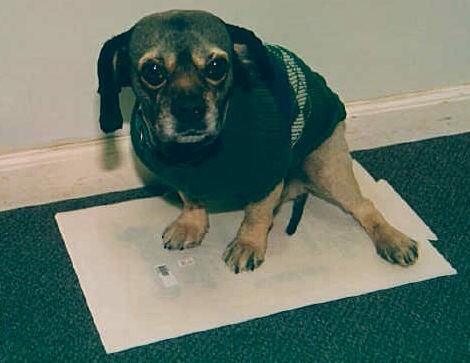 PRODUCT DESCRIPTION: Rat glueboards are used as a mechanical device to trap rats, mice, shrews, moles, chipmunks, flying squirrels, snakes, lizards and other small animals. They are placed in the pathways where rats are suspected to travel. When a rat walks on it, they get stuck and cannot escape. Each board is 8″ x 12″. They are large enough to catch the biggest rat. As you can see here in this picture, this is an 18 lb dog and the glueboard is plenty big to fit him!
WHERE TO USE IT: In and around businesses and homes away from pets and children. If a child or pet accidentally gets caught in the glue, use vegetable oil to get them off.
RATE OF APPLICATION: Depends on infestation. It is not uncommon to set out a board every 10-15 feet. If a rat escapes from one, you will need to use the live trap as the glueboard will no longer work.
PRODUCT DOCUMENTS:        SDS
RELATED PRODUCTS:        MOUSE PAPER GLUE BOARDS         PLASTIC TRAY GLUE TRAP 5X10        PLASTIC TRAY GLUE TRAP LARGE 11X13        BULK GLUE GALLONS


$7.50   (823316) single (5+ $6.00 each)
Order online and save 5%



$100.00   (823317) case of 24 glue boards
Order online and save 5%


INTERNATIONAL CUSTOMERS ORDER HERE