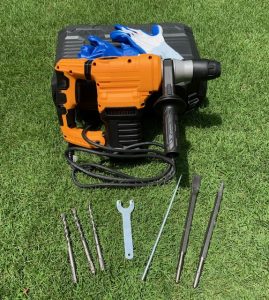 PRODUCT DESCRIPTION:   110 Volt Hammer Drill designed for drilling holes through concrete and other thick stone.
Features include:
Adjustable speeds
360 Degrees Rotatable Grip
SDS-Plus Chuck for Bits
Four Settings including Hammer vs Drill Only
Several Bits including 8mm, 10mm, 12mm and 1/2″
Chisel bit
13 Amp
Depth Stop
Easy to Grease Motor Cap
WHERE TO USE IT:  Designed to drill holes in concrete, use it to make access holes for treating under pool decking, patio slabs, concrete stoops, driveways, etc.
RELATED PRODUCTS:   1 GALLON SUB SLAB INJECTOR
TARGET PESTS:  Essential tool for pests like TERMITES, SPRINGTAILS, ANTS, CLOVER MITES, MILLIPEDES, FLIES and anything living under cement.
$60.00   (288266)
Order online and save 5%