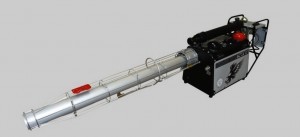 PRODUCT DESCRIPTION:      This is a thermal or "hot" fogger which heats oil based fogging solutions enough to convert them into a fog or mist. This mist is light – almost smoke like – and will stay suspended longer than cold space sprays. Since particle size is smaller, the material is able to cover bigger areas better due to deeper penetration and longer hang time. This unit is electric start (requires no pumping; completely automatic), gasoline powered and lightweight.
*** Be sure to view the video below which details how to start this machine; unlike the GOLDEN EAGLE FOOGER, this machine does not feature an electric start so you must "pump" the unit manually during startup. But other than this difference, the two machines are very similar in design and performance.
$3500.00 (283276)(FREE STANDARD SHIPPING – EXCEPT HAWAII AND ALASKA)
Order online and save 5%


RATE OF APPLICATION:    This will vary depending on the setting you establish using the flow rate volume from 1-11 gallons per hour. It is important to use DEODORIZED OIL  as the base carrier for liquid formulations. Please email or call for support regarding the best products to fog based on your target pest and where you need to fog.  THIS UNIT IS FOR OIL BASED FORMULATIONS ONLY AND WILL NOT FOG WATER

TECHNICAL SPECS:    The droplet size in the fog will range from .5-50 microns. The flow rate can vary from 5.5 minutes a gallon up to 60 minutes per gallon based on the setting of the flow rate volume control.
The Super Hawk II features a .3 gallon fuel tank and and a 1.2 gallon formulation tank.
The dry "empty" tank weight is just 14.5 lbs but fuel and formulation can add 8-9 lbs per gallon per tank. Compared to the Trailblazer and even the Golden Eagle, this unit is much lighter and easier to maneuver. It measures 55″ long, 11″ wide and 16 inches tall.
POWER REQUIREMENTS:   Even though this unit does not feature electric start, you will need 3 "A" batteries to fuel the spark needed to ignite the motor.
TARGET PESTS:   Flying pests like mosquitoes, noseeums, gnats, biting flies, sand flies, horse flies, etc. but it can be used for all common warehouse pests like meal moths, weevils, grain borers, hide beetles and more.
DOCUMENTS:     SUPERHAWK II MANUAL
TRUCK MOUNTED FOGGERS:    MINI LITE COLD FOGGER (TRUCK MOUNT)        BLACKHAWK THERMAL FOGGER (TRUCK MOUNT) 
ALTERNATIVE HAND HELD FOGGERS:     BG 2300     BG 2600      FM 5330 MINI FOGGER 110 v     FM 5330 MINI FOGGER 240v      FM 6309 110v     FM 6309 240v      FM 6208 110v      FM6208 240v     FM 7401 ULV      FM 7807 w/16″ EXT 110v        FM 7807 w/16″ EXT 240v      FM 7807 w/38″ EXT 110v      FM 7807 w/38″ EXT 240v      GOLDEN EAGLE THERMAL FOGGER      HURRICANE DYNA FOG 110v      SOLO BACK PACK FOGGER      TRAIL BLAZER
Supporting Video
[tubepress mode="playlist" playlistValue="gqt2FbbP3JjcStY-dptZNQBJxgG3gzG5″]