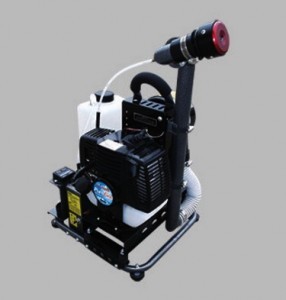 PRODUCT DESCRIPTION:   The Mini Lite is a truck mountable, non thermal ULV fogger which is gas powered. Using a 2 cycle, 1.8 HP motor, the Mini Lite can deliver a flow rate up to 7 oz per minute. There is an included "remote control" to activate flow from your drivers seat so you can turn the mist on/off as you drive.
The Mini Lite is the most powerful machine of its type for dispensing liquids in the 20 micron size and can be mounted on a tractor, atv or pick up truck. The formulation tank is 1.25 gallons and the gas tank is 33.3 oz.
Made with high strength, welded steel tube, the unit weighs just 29 lbs (without tanks full) and measures just 15″ wide, 15″ long and 28″ tall.
TARGET PESTS:   Flying pests like mosquitoes, noseeums, gnats, biting flies, sand flies, horse flies, etc.
DOCUMENTS:     MINI LITE MANUAL
OTHER TRUCK MOUNTED FOGGERS:    BLACKHAWK THERMAL FOGGER
ALTERNATIVE HAND HELD FOGGERS:     BG 2300     BG 2600      FM 5330 MINI FOGGER 110v     FM 5330  MINI FOGGER 240v      FM 6309 110v     FM 6309 240v      FM 6208 110v      FM6208 240v     FM 7401 ULV      FM 7807 w/16″ EXT 110v        FM 7807 w/16″ EXT 240v      FM 7807 w/38″ EXT 110v      FM 7807 w/38″ EXT 240v      GOLDEN EAGLE THERMAL FOGGER      HURRICANE DYNA FOG 110v      SOLO BACK PACK FOGGER     SUPERHAWK II THERMAL FOGGER


$3500.00   (283271)(FREE STANDARD SHIPPING – EXCEPT HAWAII AND ALASKA)
Order online and save 10%


Supporting Video
[tubepress mode="playlist" playlistValue="gqt2FbbP3JiDXyP0S4H8E49eIoD4JtT4″]