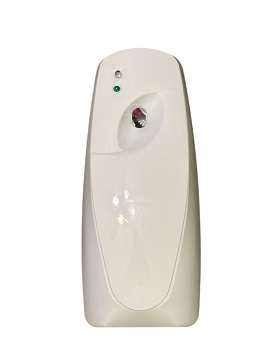 PRODUCT DESCRIPTION:   Like our other automatic aerosol machines, this one is battery operated. Its preset to go off every 15 minutes and requires no set up. Just install 2 "D" cell batteries (batteries not included), place a can of METERED INSECTICIDE or FRAGRANCE inside, slide the power button to "on" and it will start working immediately.
Most commonly used to control a wide range of flying and crawling insect pests like mosquitoes, noseeums, gnats, flies, moths and more, these machines are great for use inside and outside any home or place of business.
The following "short video" (less than 60 seconds long) shows how they work, how to set one up, etc.
Use them to add a pleasant odor to the air by installing a scent based aerosol.  But if you have a bad odor in a room, install the ODOR ELIMINATING REFILL which will neutralize any smell.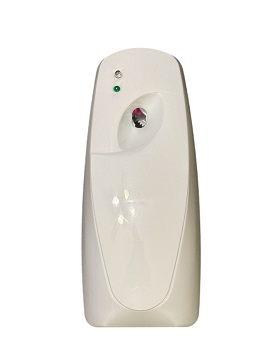 For insect control, the METERED INSECTICIDE is one of the most common refills employed because it uses pyrethrin for an active which is effective on any insect pest. Set them up on the wall, wall unit, shelf, patio, deck, bathroom kitchen, garage, crawlspace or anywhere flying pests are a problem. One machine will cover up to 400 sq/ft and is small enough to placed discreetly in any environment.
Units measure 9″ tall by 3″ wide by 4″ deep and should be set at least 4-6 feet off the ground; 8-12 feet high is ideal for most situations.
The Model 1000 is the basic unit which is good for most any application where all you need is for the aerosol to be released on a consistent basis. The MODEL 3000 allows you the most settings. Its clearly the most "configurable" model and can be set to skip certain days or go off as often as once a minute. The MODEL 2000 is in between the other two and offers a few settings. It's the only one with a photo sensor used to monitor light which is then used to control it's functions.
RELATED DOCUMENTS:   AEROSOL 1000 DIRECTION SHEET
WHERE TO USE IT: Most commonly used in living spaces in the home like kitchens, living rooms, computer room and rest rooms, they also work well on outside decks, basements, crawl spaces and just about anywhere pests are active. For small well sealed areas, model 3000 is better suited for the job since it will let you set the release frequency to as little as once an hour. This can be all that's needed for small, air tight rooms where treatments will hold up.
RELATED PRODUCTS:     METERED INSECTICIDE       MULTIPURPOSE SPACE SPRAY AEROSOL     AEROSOL MACHINE 2000      AEROSOL MACHINE 3000


$35.00   (283155)(3+ $32.00)
Order online and save 5%






INTERNATIONAL CUSTOMERS ORDER HERE