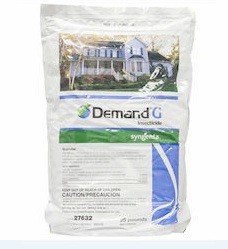 PRODUCT DESCRIPTION:   Designed to release over a few weeks, Demand granules use a fast working active highly effective on insect pests which live in the soil. Virtually odorless, Demand works fast on surface insects and will repel ants, beetles, flying pests and help prevent digging by predator animals.
TARGET PESTS:  Demand is effective on the following but not limited to ants, armyworms, beetles, centipedes, cockroaches, crickets, cutworms, earwigs, firebrats, fleas, grasshoppers, japanese beetles, millipedes, mites, pillbugs, silverfish, spittlebugs, springtails, ticks, waterbugs, billbugs, chinch bugs, dung beetles, june beetle grubs, mole crickets and more.
RATE OF APPLICATION:   25 lb bag will cover up to 8,000 sq/ft. Retreat every 30-60 days.
PRODUCT DOCUMENTS:             SPECIMEN LABEL      MSDS SHEET
$90.00  (25 lb bag)(453431)(2+ $80.00 ea)
Order online and save 5%


Supporting Video