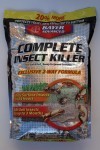 PRODUCT DESCRIPTION: Slow released granule which will slowly disperse over the treated soil in a month or two. This will provide both residual and repellent action for a wide range of insects. These granules have low to no odor, look mostly white and pretty much not noticeable once applied.
TARGET PESTS: Ants, centipedes, cockroaches, digger wasps, millipedes, pill bugs, scorpions, spiders and other insect pests.
WHERE TO USE IT: Turf, flower beds and other areas around the home and yard.
RATE OF APPLICATION: 10 lb bag treats up to 5,000 sq/ft.
PRODUCT DOCUMENTS:       SPECIMEN LABEL       MSDS SHEET
$25.00  (10 lb bag)(453421)(2+ $23.00 ea)
Order online and save 5%


Supporting Video