PRODUCT DESCRIPTION:     Metered Insecticide, Purge III and Clear Zone are pyrethrin based aerosols which can be used in our Aerosol Machines. All three will kill and repel flies, mosquitoes, noseeums, biting gnats, thrips and small flying moths.
WHERE TO USE:    Restaurants and food processing plants, stores, farms, dairies, barns, kennels, factories, schools, hotels,motels, offices, ships, planes (cargo area), supermarkets, food warehouses,bottling plants, hospitals, nursing homes, day-care centers, milk and egg handling areas of dairies and chicken houses.
RATE OF APPLICATION:     These aerosol cans contain pyrethrin as their main active ingredient and should be applied using one of our Aerosol Machines.
These dispensers work by activating the metered valve on the can so it will release a short spray of aerosol. The AEROSOL MACHINE 1000 is our biggest seller. It's super easy to set so you just need to keep refills in it fresh by changing them monthly and you'll be protected.
The following short video shows how to set it up.
The AEROSOL MACHINE 2000 has a photo cell so it can detect daylight. This way it can be programmed to "not" go off when its light and only when its dark or vice versa.
The AEROSOL MACHINE 3000 has even more settings. It can be configured to skip certain days of the week making it ideal for use in sensitive areas. You can also turn up the frequency of "blasts" to as often as once a minute. No doubt  this is an extreme setting but sometimes is needed – especially when trying to control outside pests around a patio or deck.
Using an Aerosol Machine for problematic flying pests will provide noticeable results within one hour after a machine is turned on and activated.  Keep in mind that such factors such as airflow rate, the size of the space being treated, humidity and the room temperature will affect insect activity and control.
A good guideline to follow is to install one machine per 6,000 cubic feet of unobstructed space.
PRODUCT COMPARISONS:   Purge III has been around forever and is the "Cadillac" brand therefore its price is the highest. Clear Zone came out after Purge II many years ago and they made it with a .025 more pyrethrin so they can say its stronger but we cannot tell it works any better compared to Purge. Metered Insecticide is the option and though it has slightly less pyrethrin compared to Purge (.075 less), it has more synergist than the other two. More importantly, we cannot detect any difference in performance meaning all three options work equally well for the same targeted pests. For this reason, the Metered Insecticide is clearly a very good value due to the cost savings.
WHEN TO CHANGE CANS:    Any of the three cans offered will last at least 30 days when deployed to release a blast every 15 minutes 24 hours a day. So if you set your machine to go off every 30 minutes or less, refills will last longer.
PRODUCT DOCUMENTS:       PURGE 3 LABEL       PURGE 3 MSDS SHEET        METERED INSECTICIDE LABEL      METERED INSECTICIDE MSDS       CLEAR ZONE LABEL        CLEAR ZONE MSDS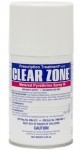 CLEAR ZONE 6.25 OZ CANS  (VERY LITTLE IF ANY ODOR)

$25.00  (6.25 oz can)(451110)(3+ Cans $22.00 ea)
Order online and save 5%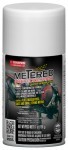 METERED INSECTICIDE 7.0 OZ CANS (MOST ODOR OF THE THREE – BEST FOR GARAGES, BARNS, OUTSIDE AREAS)

$22.00 ea (7.0 oz can)(451117)  (6-11 $21.00 ea, 12+ $19.00 ea)
Order online and save 5%



$155.00 CS of 12 Cans (451117CS12)  (FREE STANDARD SHIPPING)
Order online and save 5%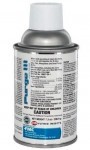 PURGE III 7.3 OZ CANS (SLIGHTLY DETECTABLE ODOR)
$25.00  (7.3 oz can)(451306)  (3+ Cans $22.00 ea)
Order online and save 5%