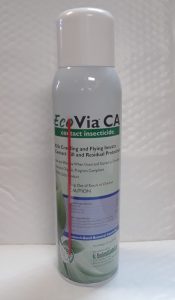 PRODUCT DESCRIPTION: This organic, green product uses several "minimum-risk" essential food oil actives which have proven active on a wide range of insects. Use it like any other aerosol meaning you can apply it to cracks and crevices, voids and even down the sink for stubborn drain pests like drain flies, springtails, crickets and more. All EXEMPT products work within USDA NOP (National Organic Program) guidelines. This product is organic, can be used both inside and outside the home for many different pests and most important, it actually works!
* Quick knockdown/kill
* Strong flushing action
* Ideal substitute for pyrethrum aerosols
* Non-staining
* CFC free
TARGET PESTS:  Crawling Insects:  Ants, bed bugs, carpet beetles, carpenter ants, centipedes, clover mites, cockroaches, crickets, drug store beetles, earwigs, elm leaf beetles, firebrats, fleas, millipedes, pillbugs, scorpions, silverfish, spiders, springtails, termites, ticks and other crawling insect pests.
Flying Insects: Flies, gnats, mosquitoes, moths, yellow jackets, wasps, and other flying insect pests.


** LABELED FOR USE DOWN DRAINS **
PRODUCT DOCUMENTS:       SPECIMEN LABEL       MSDS SHEET
$25.00  (16 oz can)(451152)  (3+ $21.00 ea)
Order online and save 5%


Supporting Video