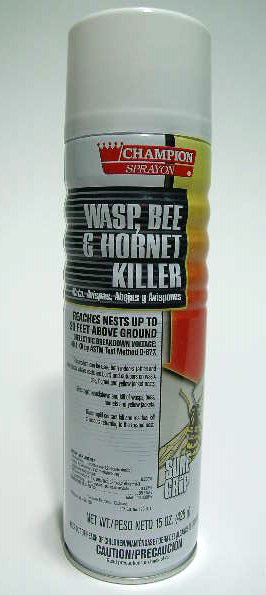 PRODUCT DESCRIPTION: Long reaching aerosol spray that can reach nests up to 20 feet away. Rapid knockdown and kill, it uses Tetramethrin as it's active ingredient.
TARGET PESTS: Bees, hornets, yellow jackets and other wasps.
WHERE TO USE IT: Outside around the home where nests form like under eaves, on telephone poles, building walls, decks, garages, etc.
RATE OF APPLICATION: Target nests within range of the spray and treat nests in the evening after all occupants have returned for the night. Spray until the nest is soaked and leave it alone for at least one day. Do not attempt to remove the nest until you are certain all activity has ceased and the inhabiting insects are dead.
PRODUCT DOCUMENTS:       SPECIMEN LABEL       MSDS SHEET
$10.00 (15 oz can)  (451200) (3+ 9.00 ea)
Order online and save 5%


Supporting Video