Bagworms can be found all around the world. They may go unnoticed when they first arrive but within a short period of time they can multiply to huge numbers. Bagworm damage is easy to spot and if not controlled will cause plant and tree death. For this reason bagworms are a nuisance pest and one that needs treatment if you find them active in your landscape.


Related articles:        APHIDS         APPLE MAGGOTS        BARK BEETLES        BUDWORMS        CUCUMBER BEETLES        SLUGS        SOWBUGS        SQUASH BUGS         THRIPS        TWIG GIRDLERS        WHITE FLYS
Other Information:         PEST ARTICLES


BAGWORM BIOLOGY *
Bagworms will grow through four stages like any other insect. Eggs hatch in the spring and will feed close to if not on the very same plant or tree their mother fed. Bagworm larva will create a "bag" around themselves as they feed. Composed of silk and plant debris, this bag will grow in size to fit them as spring becomes summer and their bodies get larger. To the right is a picture of a larvae which used grass clippings to build its bag.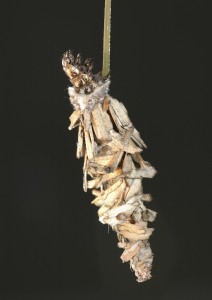 At some point in the summer the larva bagworms will spin a protective cocoon and pupate. Within a couple of weeks, these protective cocoons will release adults. The adults are moths; gray in color and though they don't feed, they will hang around the same trees their young target.
Adult bagworms don't live long once they reach adulthood; males die within a few days of mating and females live just long enough to lay her brood of eggs which number in the hundreds.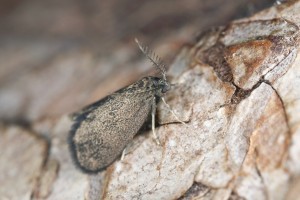 As male adults emerge from their cocoons, they will fly off in search of females. Adult females which emerge can't fly like their male counterparts. Instead they prepare their "bags" for the soon to be laid eggs and wait patiently for a male to find them. These bags will be located on trees but also underneath since some will naturally fall off from weather events, rotting branches on the host tree, etc. But regardless of where the female awaits, the flying males will be able to find them.
Once males reach receptive females, they will mate and soon afterwards, the males will die. Females will continue on and will start laying eggs 5-10 days after they mate. But within 2-3 weeks, they will die off as well leaving nothing but egg laden bags ready to re-infest your trees.
If egg laying occurs early enough in summer, two generations of bagworms may cycle per season. In most areas, there is only time for one per year. Eggs laid at summers end will lay in wait for the following spring to emerge and start anew.
BAGWORMS DAMAGE TREES, SHRUBS AND FLOWERS *
Bagworms eat plant and tree leaves and can cause substantial damage if left alone. They love most any arborvitae but will also eat maple, boxelder, willow, black locust, poplar, oak, apple, cherry, persimmon and just about anything with green leafy leaves. For this reason it's important that local activity is duly noted and then confronted.
Failure to deal with initial stages will mean more will arrive. And if left to expand as they want, it will lead to more damage and in some cases, home invasions. Since each female will lay 500-1000 eggs, a couple can turn into many thousand within a year and these bagged pests will need a good home on which to reside.
HOW TO TREAT BAGWORMS *
The good news is bagworm control is easy to initiate and maintain. The key is early detection and when detected, using the right treatment based on the season.
If you've identified activity, treat as much of the plant or tree as well as the surrounding foliage of other plants. This insures you get them all. A good and thorough application in the spring can many times keep local populations in check so its never too early to spray.
However, if you find a large infestation late in the year, treat once every two weeks till you don't see anymore. Late season applications won't have nearly the affect of early spring time treatments for two reasons.
First, the young larva are much more susceptible in the spring. They're extra "weak" so chemical treatments have a better impact. Treating late in the season when bagworms have reached maturity means you're dealing with a stronger pest and one that's more protected since they will be living inside their "bag".
Secondly, the pupae stage of bagworms is not susceptible to any treatment. Their cocoon will protect them from chemical applications and only when they hatch out can they be affected. For this reason it's important that you do multiple applications when treating late in the year. Repeat treatments assures you'll have good protection to get each release of female and male pupae from their bags.
ORGANIC BAGWORM SPRAY *
For organic gardeners, MULTIPURPOSE INSECT KILLER is a good choice. It's both strong enough and approved for organic gardening so it's safe for use on vegetable and fruit plants. But you will have to apply it several times. Expect to be spraying 1-2 a week till the problem is resolved and no activity is achieved.
Add 6 oz per gallon of water and use the mixture to spray fruit trees, vegetables like tomatoes or peppers as well as grape vines. Multipurpose Insect Killer will work within a day so exposed larvae and adults will die immediately. And you'll get positive results when treating in the spring, summer or fall.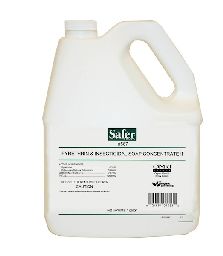 DORMANT OIL FOR WINTER BAGWORM TREATMENTS *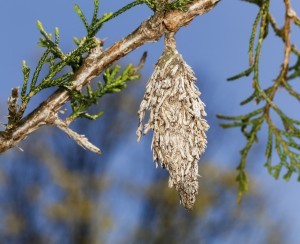 Since bagworms tend to hide well, they can go unnoticed when trees are green throughout the summer and fall. But as winter arrives, their dormant bags can be easy to spot. If you have evergreens like Leyland Cypress or some tree harboring dormant bags, treat them with DORMANT OIL SPRAY. during the winter. It will suffocate the hibernating stage and kill them before they get active the following spring. Dormant Oil is a good choice to spray during the winter for prevention so you can be sure an ongoing problem won't resurface the following year.
Mix 3 oz per gallon of water and use up what you mix within a day.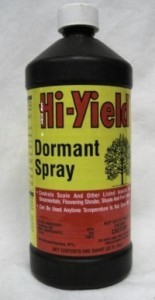 BEST BAGWORM SPRAY FOR SPRING, SUMMER OR FALL *
During the spring, summer or fall, the strongest and best concentrate to apply is BIFEN XTS.  Its fast working and goes a long way. Bifen is oil based which enables it to penetrate bagworm bags much better compared to most any other concentrate.
Use it monthly when bagworms are active; once they 're gone, treat every 2- months to make sure they don't return.
Mix it .5 oz per gallon of water.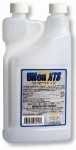 Lastly, you'll need a good sprayer to apply any of these concentrates. For low heights 15 feet or less, our BUGSPRAY PUMP SPRAYER will work well, It comes with a range of spray tips including a pin stream that can deliver a laser like spray up to 15 feet high.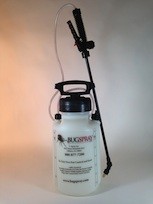 For heights of 15-30 feet, a TROMBONE SPRAYER will do the job. This is a manually operated sprayer you control by "sliding" the pump you hold in your hands. Its easy to use and will let you apply chemical exactly where you want it with laser like precision.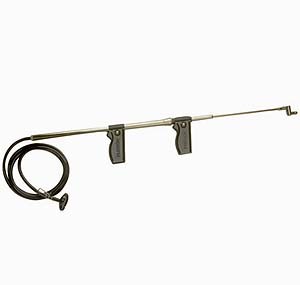 Lastly, another option is our 20 GALLON HOSE END SPRAYER. This sprayer hooks up to your garden hose and uses the water pressure of your water supply to pump out chemical from the small holding tank underneath the spray handle. This sprayer will be more "wasteful" compared to the pump or trombone sprayer but it can reach up quite high if you have decent water pressure. Basically as high as you can spray your garden hose.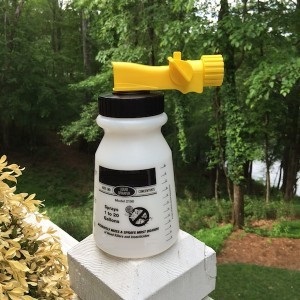 Bagworms can become a problem on most any tree or plant in the yard if given the chance to survive. If you suspect you have some feeding or foraging on your property, do some spraying early in the season to minimize damage. If its winter when you find them, its just as wise to spray then too using the Dormant Oil listed above.
CONTACT US *
Give us a call if you need further help. Our toll free is 1-800-877-7290 and we're open Monday through Thursday, 8:00 AM to 7:00 PM. On Friday, 8:30 AM to 5:00 PM and on Saturday, 9:00 AM to 2:00 PM (Eastern Standard Time).
Email questions here:   http://www.bugspray.com/about-us/contact-us
Order online and get a 5% discount! We ship fast with 99.9% of all orders shipping within 1 business day!!


Learn more about BUGSPRAY.COM and why it's never been easier or safer to do your own pest control.


Please show your support for our business by purchasing the items we recommend from the links provided. Remember, this is the only way we can stay around to answer your questions and keep this valuable web site up and running. Thanks for your business!