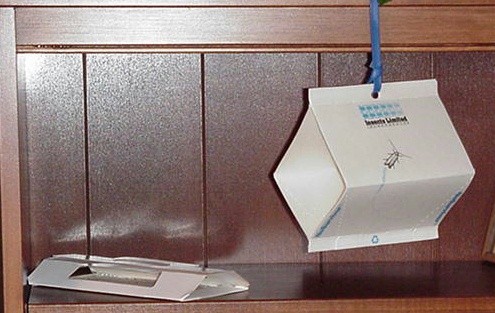 PRODUCT DESCRIPTION:   Glue trap which uses sexual pheromones as attractants and is set out where you either have activity or suspect activity. Emerging adults will find the trap, enter and get stuck on the glue catching them before they are able to mate and lay eggs.
This is an excellent monitoring device which should be used in conjunction with the other treatments listed in our on line article. These traps come in two styles. The one on the left side of the picture is the Low Profile and the trap on the right side of the picture is the Hanging Style.
Remember these are not a "solve all" device  and when used by themselves will not take care of a local infestation. And since developing stages can take several months before they'll reach maturity, it's not possible to tell when they'll be attracted to pheromone traps. So when carpet beetles have been found active in the home and you want to use traps, here are some guidelines on how to set them up and what to expect.
1) Make sure you set them up as explained in our video posted below.
2) Be sure to have at least one trap installed per room where activity has been seen.
3) Understand that just because you see beetles it does not mean they will be attracted to the trap right after you set them out. There are far too many factors to determine just when this will happen. In general, there will be at least one "season" per year when this will happen and though outside this will usually be in the summer, inside the home it can happen most any time.
4) Carpet beetle traps should not be used as the sole control mechanism. In other words, using nothing but traps will not resolve, control or take care of an active infestation. The traps should be used as a way to both monitor and reduce local populations but not as a "treatment".
WHERE TO USE IT:  In closets, around furniture, by important fabric, around windows or any place where you have either seen activity or don't want to have any activity.
RATE OF APPLICATION:   Try to set at least one out in every room where you want to protect furniture or fabric; more if there is a lot of activity present.  The glue in the traps will remain active for 3-6 months and the pheromone will remain active during this time too. Each trap comes with 1 lure.
RELATED PRODUCTS:       BLACK CARPET BEETLE TRAPS        DERMESTID MONITORS
$20.00  ea. (826470) Low Profile (3+ $17.00 each)(Free Standard Shipping)
Order online and save 5%



$20.00  ea. (826468) Hanging Style (3+ $17.00 each)(Free Standard Shipping)
Order online and save 5%


INTERNATIONAL CUSTOMERS ORDER HERE
Supporting Video