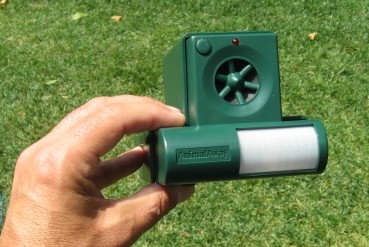 PRODUCT DESCRIPTION: This is a small device powered strictly by battery. It uses one 9 volt battery which will usually have enough power for several months of operation. This unit has an infrared motion detector so it will only go off when targeted animals are within range. This conserves the battery. It has an "on/off" switch on the back which is used to turn the unit on. Contained in a mountable frame that both houses the main unit and protects it from weather, it is best to mount this device on trees, fences, buildings, or walls. This location should be at a height which is equal to the targeted animal.
WHERE TO USE IT:    Outside and close to property lines where dogs and other animals are likely to enter onto your land and once turned on, they will keep the protected area animal free. They provide a 70 degree wide sound wave that goes out strong for at least 30 feet. This sound will cover up to 550 sq/ft making it a good choice for small areas.
SPECIAL NOTE ABOUT PETS:   The use of Ultra Sound cannot injure animals including pets. As explained above, the sounds emitted will make certain animals uncomfortable and want to move elsewhere. But the range of sound is variable and specific. That means if you are trying to repel rats or bats and dial in that setting, dogs and cats won't mind the sound even though they can hear it.
TARGET ANIMALS: Armadillo, Cats, Dogs, Deer, Rabbit, Raccoon, Skunk and Squirrels
RELATED ULTRA SOUND DEVICES:    ATTACK WAVE     CAT STOP     TRANSONIC      YARD GARD

$65.00 ea (747772)(3+ Units $58.33 ea)
INTERNATIONAL CUSTOMERS ORDER HERE
Supporting Video
[tubepress mode="playlist" playlistValue="B3DFB9055C1E565A"]