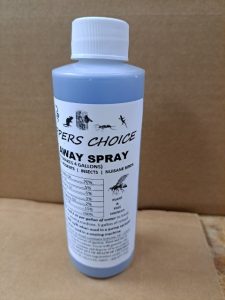 PRODUCT DESCRIPTION:   Concentrated essential plant and tree oils that use a very "high" concentration they effectively chase away animals and insects.
Pest Away won't injure or harm animals or insects but they will notice it and not be comfortable staying where its applied. Basically its high level of natural oils spooks them. This is a natural reaction animals and insects have to many plant and wood oils so they avoid landing on it, eating it, etc.
This short video (less than 60 seconds) gives a good overview of how it works:
We have found it effective chasing the following list of animals and insects including but not limited to: aphids, bats, beaver, beetles, birds, blind snakes, blue tailed skinks, Bufo toads, bullfrogs, bumble bees, Cane Toads, carpenter bees, chipmunks, Colorado River Toads, crayfish, Cuban treefrogs, curly tailed lizards, deer, ducks, frogs, geckos, geese, iguanas, leaf chewers, lizards, marmots, mealy bugs, mice, mosquitoes, newts, porcupine, psocids, rats, rabbits, raccoons, rock chucks, rodents chewing engine wires, salamanders, scorpions, skinks, skunk, spider mites, snails, snakes, squirrels, termites, thrips, toads, voles, white flies, wood chucks, woodpeckers and more.
WHERE TO USE IT:  Spray Pest Away thoroughly on the sides of the home, plants or targeted trees. This includes areas around trees, shrubs, flowers, vegetables, walkways, docks, roof tiles, pool decks, or any place where you'd like to repel an unwanted insect or animal.
You can also add 3 oz to a gallon of paint or stain for outside applications only. The paint will chase away pests for 1+ years.
RATE OF APPLICATION:   For optimum results on wet areas like pool decks, docks, patios, seawalls, irrigated gardens, and other large areas, use one gallon of mixed gallon Pest Away per 500 sq/ft.
Add 2 oz of Pest Away per 1 gallon of water to start.
Followup 3 weeks later. After the second treatment, the targeted animal or insects should be "rerouted" to another place but if they continue to hang around, renew treatments as often as they return.
SUGGESTED SPRAYERS:     SPRITZER     ELIMINATOR     MINI MISTER
Animals and insects are creatures of habit and since Pest Away won't harm where its applied, you treat as frequently as is needed.
$50.00   (451056) 8 oz (2+ $46.00 ea)
Order online and save 5%