I have been referred to use sulphur 90% to control the insect called the flower pot snake or the blind snake. Please advise whether this product you sell will be the one I should use.
BEST TREATMENT FOR FLOWER POT SNAKES
First, the flower pot snake is actually a reptile and not an insect. Commonly known as a "blind snake", they're characterized by having a blunt head, short tale and smooth scales on their body. Most importantly, they're definitely a member of the snake family!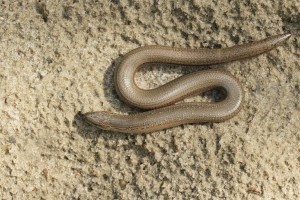 Flower pot snakes are native to many tropical climates but in recent years have been found in countries where they cannot live in the wild. This is because they're unknowingly be transported in flower pots, fertilizer, and other horticulture related equipment and products. And after thousands of miles of traveling, flower pot snakes are now being found as far north as Canada!
Now if the plant they hitch a ride with ends up inside a warm environment (like in a heated home), blind snakes can survive and many times remain hidden and out of sight. This is because they forage for food mostly at night and will eat anything from termites to ants to roaches.
FLOWER POT SNAKE DETERRENT
As for deterrents; SULFUR is a product we carry and over the years, we have sold many bags of it for chasing away snakes. Use it to create a barrier around the property BEFORE you get snakes.
The rate is 1-2 lbs per 100 linear feet so our 5 lb bag can cover 250-500 feet of entry points. Treatments will last 2-4 weeks and will chase away all snakes, lizards and other reptiles.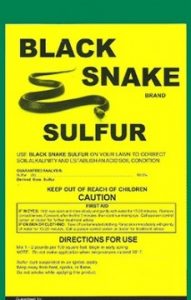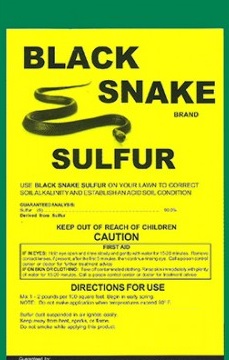 BEST BLIND SNAKE SPRAY

No doubt your best option is our TRAPPER CHOICE PEST AWAY SPRAY.
Made with all natural essential oils, this concentrate mixes with water and can be applied to your home, turf, plants, plant pots and pretty much anywhere a blind snake might want to hide.
This spray won't hurt them but because the essential oils are so concentrated, it "alarms" them and makes them uncomfortable. This causes them to leave where they detect it.
Treatments will last a good 3-4 weeks outside in open areas; under decks or patios, 1-2 months. Usually what happens is you spray and they leave never to return.
Mix 2 oz per gallon of water and expect to get about 500-750 sq/ft of coverage depending on what you're spraying. For example, the side of the home will not need as much as a mulch pile with thick wood chips or tree bark.areas with activity, spray over the top with the liquid form. A quart will cover up to 125 sq/ft and like the granules, should remain active for up to 30 days.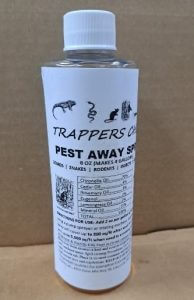 BLIND SNAKE TRAPS
If you're finding blind snakes in the home, you'll need some of our SNAKE GLUE TRAPS. These are great for areas like garages, bathrooms and basements where blind snakes will like to rest.
Place traps out along the walls in any room where snakes are seen. These traps use special insect scents and pheromones to attract a range of pests including hungry snakes.
Traps should be spaced 10-15 feet apart.