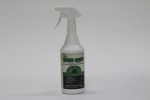 PRODUCT DESCRIPTION: This product qualifies as a "minimum-risk" material under FIFRA and is therefore exempt from Federal EPA registration.
It can be applied to metal, wood, painted 
surfaces, brick, stucco, fiberglass, concrete, paneling and other surfaces.
Minimum risk EPA 25(b) exempt product
Prevents new web construction and breaks down existing web structure for easy cleaning
Use indoors and outdoors
Lasts 5-6 months indoors and 2-3 months outdoors
All-natural ingredients: essential oils & vinegar
RATE OF APPLICATION: Web Out is ready to spray and does not need any dilution or mixing. A quart will cover 200-300 sq/ft. Web out will last 30-90 days on outside surfaces; up to 120 days on indoor surfaces.
TARGETS: Ants, crickets, cockroaches, fungi, mold, mosquitoes and other perimeter pests.
PRODUCT DOCUMENTS:       SPECIMEN LABEL       MSDS SHEET
$20.00  Quart (745281)(Comes with spray nozzle as shown above; gallons DO NOT come with sprayer)
Order online and save 5%



$60.00  Gallon (745283) (4+ $52.00 ea)   SUGGESTED OPTIONS:   TRIGGER SPRAYER     PUMP SPRAYER
Order online and save 5%





INTERNATIONAL CUSTOMERS CLICK HERE TO ORDER


Supporting Video