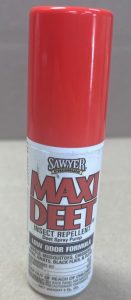 PRODUCT DESCRIPTION:  Low odor 2 oz deet is the strongest protection you can get. Ideal for areas of extreme bug density or other extreme conditions. Use it on clothing, mosquito or head nets. This is the only true "low odor" maximum "maxi" deet available on the market.
• Field-tested to offer proven effectiveness against bugs for up to 10 hours
• Protects exposed skin against mosquitoes, chiggers, ticks, deer flies, black flies, stable flies, gnats and fleas
• Can be applied to shoes, socks and some clothing
A little goes a long way… so use as needed. There is little reason to use anything other than 98% deet. You can control dosage by using a smaller amount rather than a lower concentration. Lower concentrations have more alcohol, which increases absorption and causes more skin irritation.
WHERE TO USE IT: On your skin.
SUPPORTING DOCUMENTS:          SPECIMEN LABEL
RATE OF APPLICATION: Generally every 5-7 hours or as needed. The mist applicator allows for uniform and proper treatment and you only need a squirt or two per leg and arm.
OTHER INSECT REPELLENTS FOR CLOTHING AND SKIN:       DEET LIQUID SPRAY 25%    DEET LOTION 20%       PERMETHRIN READY TO SPRAY FOR CLOTHING         PERMETHRIN AEROSOL         BUG BANDS
$15.00  2 oz (745166)(3+ $12.00 ea)(FREE STANDARD SHIPPING)
Order online and save 5%