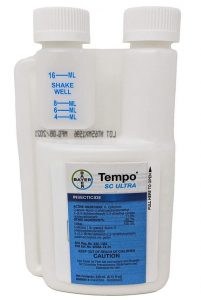 PRODUCT DESCRIPTION: Odorless material which is both easy to apply and effective. As a micro-encapsulated product, Tempo SC does a good job of remaining active for long periods of time. This formulation is excellent for use on porous surfaces like cement, wood and dirt.
WHERE TO USE IT: Outside on the foundation wall creating a wide band of treated surface to stop invasive insects. Inside Tempo SC is odorless and labeled for many pests commonly found in the home and commercial buildings.
RATE OF APPLICATION: 8 ml – 16 ml per gallon of water.
RELATED PRODUCTS:          PUMP SPRAYER
PRODUCT DOCUMENTS:       SPECIMEN LABEL       MSDS SHEET
$100.00  240 ml (about 8 oz) (455781)
Order online and save 5%





$300.00   900 ml (about 31 oz) (455782)
Order online and save 5%



Supporting Video