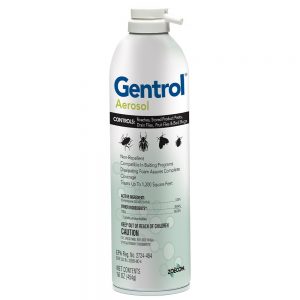 PRODUCT DESCRIPTION: Low odor aerosol that is applied to surfaces over which Bedbugs have been seen. It works as a growth regulator preventing bedbugs from being able to fully mature thus breaking their cycle.
TARGET PESTS: Bedbugs, drain flies, fruit flies, meal moths, tobacco moths, red flour beetles, roaches, cigarette beetles, dermestids (carpet beetles).
WHERE TO USE IT: In the home over carpeting, floors and beds.
RATE OF APPLICATION: 16 oz per 1200 sq/ft.
PRODUCT DOCUMENTS:       SPECIMEN LABEL       MSDS SHEET
RELATED PRODUCTS:     GENTROL LIQUID     NYLAR IGR
$25.00 (16 oz can) (451190) (3+ Cans $20.00 ea.)
Order online and save 5%



$164.00 CS of 12 Cans (451190CS12)(FREE STANDARD SHIPPING)
Order online and save 5%


Supporting Video