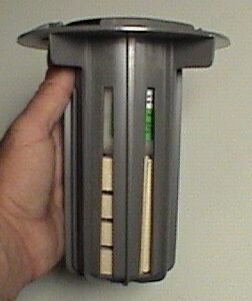 PRODUCT DESCRIPTION: A Termite Bait Station that includes the station, Wood Base Attractant and Inspection Cartridge (another attractant).
These stations include the station, a wood base which sits at the bottom of the station and the Inspection Cartridge which sits on top of the wood base inside the station. The wood base may be the first place termites go once inside the station but the Inspection Cartridge is made of cellulose material which termites cannot resist and will quickly become their main target once they find it.
*** NOTE THAT THESE STATIONS ARE ONLY MONITORS. ONCE ACTIVITY IS FOUND, INSPECTION CARTRIDGES SHOULD BE REMOVED AND REPLACED WITH BAIT CARTRIDGES.
The following video gives you a good summary of these stations:
WHERE TO USE IT: Outside around the home, in the ground, where termites are suspected to be active. Stations can be set in the ground, through holes in concrete, in dirt crawl spaces or even where dirt is available inside around drain pipes commonly found in slab structures. Ideally stations should be placed where soil moisture is high enough to keep termites happy but not so moist that the station has standing water in them once installed. Remember that concealment is always better so just under the mulch in a an island or flower bed like pine straw or wood chips is a great location.
RATE OF APPLICATION: Stations should be set out every 5-10 feet around the structure. Gaps should not be any greater. If you have obstacles like concrete or decking, it would be wise to make access holes for station placement if you wish to obtain the best results.


RELATED PRODUCTS:          BAIT STATION BASE 2 PARTS            BAIT STATION INSPECTION CARTRIDGE          BAIT STATION REGULAR SPIDER TOOL         BAIT STATION EXTENDED SPIDER TOOL         BAIT STATION CAPS        BAIT STATION BAIT CARTRIDGE           BAIT STATION EARTH AUGER DRILL BIT


*** NOTE WHERE ALL STATIONS ARE PLACED:  DO NOT FERTILIZE, SPRAY LIQUID PESTICIDE, APPLY GRANULAR PESTICIDE OR PUT THE STATION ANYWHERE IT IS LIKELY TO HAVE EXPOSURE TO ANYTHING THAT COULD CONTAMINATE IT!! ***


$18.00  ea (157691)(5-9 $16.00 ea)(10+ $15.00 ea)
Order online and save 5%


INTERNATIONAL CUSTOMERS ORDER HERE