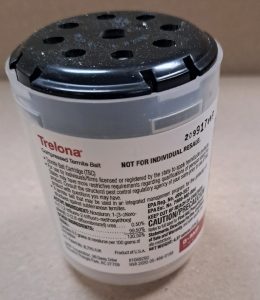 PRODUCT DESCRIPTION: Basically made of the same cellulose material as the Inspection Cartridge, the Bait Cartridge actually has the active ingredient that's needed if you wish to kill off the termites active. These cartridges should only be used when you know you have active termites in your bait station. Once active termites are found, the Inspection Cartridge should be removed and one of these Bait Cartridges inserted. At this point the station should be sealed up but inspected weekly being sure to replace the Bait again if they devour it. If one of these cartridges has activity for a short while and termites leave, you can remove it and store it for when they return.
WHERE TO USE IT: In our Termite Bait Stations.
The following video gives you a good summary of these cartridges along with the Bait Station.
RATE OF APPLICATION: 1 each station. They will last until the local termites eat it all the way. Since you should remove it when you find no activity, it should not have a chance to decompose in the station meaning that you could have one open for up to a year following it's initial use. If sealed well and kept in a moderate climate, opened and used cartridges may last this long.
RELATED DOCUMENTS:      TRELONA LABEL        TRELONA SDS
RELATED PRODUCTS:        BS BASE 2 PARTS         BS INSPECTION CARTRIDGE         BS REGULAR SPIDER TOOL         BS EXTENDED SPIDER TOOL         BS CAPS         ADVANCE TERMITE BAIT STATIONS         BAIT STATION EARTH AUGER DRILL BIT
$20.00   (157696)(3+ at $18.00 ea)
Order online and save 5%