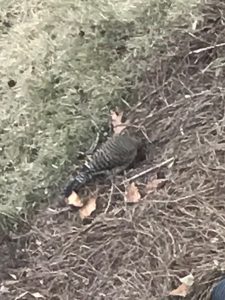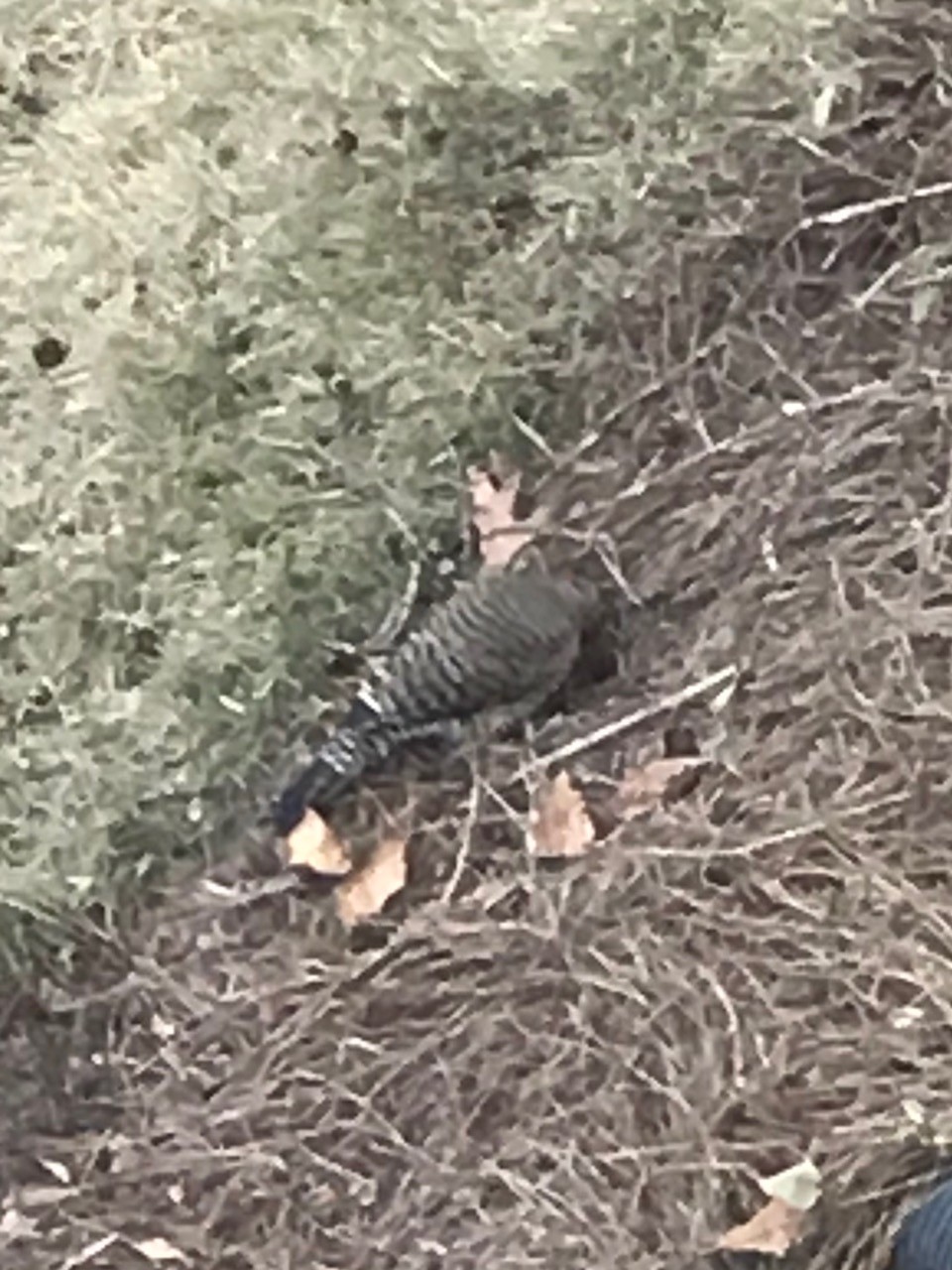 Something really odd has been happening the past week. Its been really cold here and the ground is maybe near frozen which is not normal for us in GA. Well for some reason, I have 4-5 giant woodpeckers pecking holes in my grass! I see them every morning pecking away making big holes about the size of a golf ball. They even chase one another around the yard like they're trying to steal something from one another. What at the doing? At first I thought it was a chipmunk or squirrel but the holes only go down 2-3 inches and stop. And there isn't any nuts in them. But I'm trying to keep my Zoysia nice a level since I cut it with a reel mower and all these holes are messing it up. Before I start filling them in I'd like to get rid of the woodpeckers.
Woodpeckers will typically peck on trees for food. They seek insects and as insects chew or move under the bark of trees, birds like woodpeckers can "hear" the sound and will come to feed. In most cases, this can lead to tree damage. And though a little pecking isn't bad, too much can be detrimental to the tree.
When it gets cold, the soil can effectively become "solid". Insect activity in the ground can then be "heard" by birds like robins and woodpeckers. Grubs will be detected as will worms and its most likely the woodpeckers are targeting one of these in your grass.
Small holes should not be a problem but when you're trying to maintain a flat, level yard, 2-3″ holes are not acceptable. To keep them away from any given area, you can set out SOUND REPELLERS to protect the area from unwanted digging. These units send out an ultra sound (not detectable by people) by default and woodpeckers in the area will stay clear of the sound once they hear it.
Units can protect up to 5,000 sq/ft and can be powered by the included AC power supply or with 4 "C" cell batteries. Set units up about 1 foot off the ground pointed at the area with the problem and they'll stay away.
The good news is this activity should not last forever. In most cases, once it gets warmer like 40 degrees or more, the ground will soften. This in turn will make it hard for wood peckers to detect any sound and they'll be forced to go back to trees for food.
Units should be placed 1-2 feet above ground and pointed in the direction where animals are entering as well as "over" the turf you want to protect.


For easy installation, MOUNTING BLOCKS are handy. They can accept 1 or 2 repellers (picture to the right) and have a 1/2″ hole on their bottom so they will easily fit over a 1/2″ piece of rebar or any other wood or plastic stake. Ultra Sound Repellers will work fine by themselves as long as you have a good place to set them up. But we highly recommend getting the Units with Mounting Blocks to keep them off the ground and better protected from the rain and water.