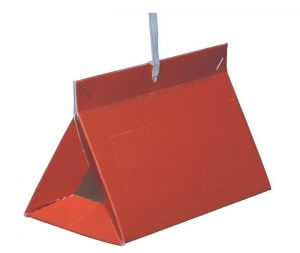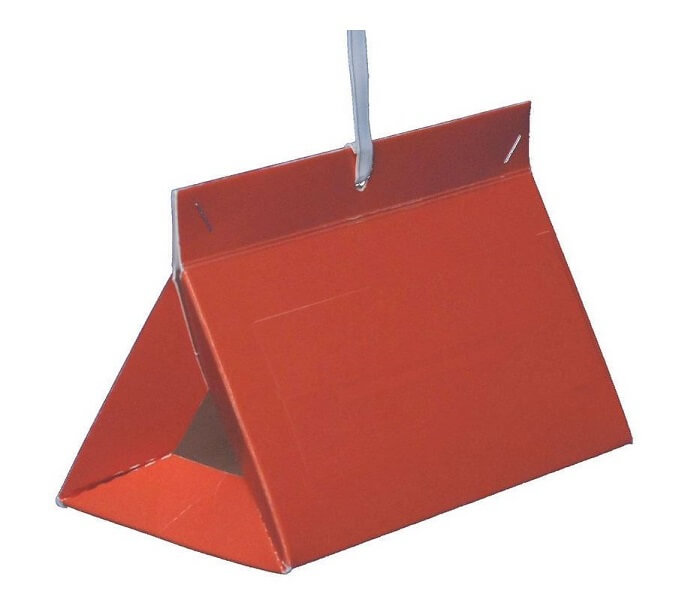 PRODUCT DESCRIPTION: Pheromone trap which lures codling moths inside. Once inside they get stuck on the glue. Traps are weatherproof and the included pheromone will last 2 months. Each trap measures 8″ long by 4″ wide and about 4″ tall when folded up.
WHERE TO USE IT: One per tree when used on small stands, perimeter placements are the preferred locations when monitoring commercial orchards so spraying programs can be implemented once activity is noted.
HOW TO SET UP TRAP:  First do a "practice" fold of the glue trap so you understand where to bend it together. Next, prepare the lure by cutting open the packet. The lure inside is USED AS IS. All you need to do is "pour" it out from the pack so the lure lands on the "exposed" glue once the trap is assembled. Be sure to remove the protective glue sheet on the trap covering the glue BEFORE adding the lure and then try to avoid contaminating the lure by handling it. Once placed on the glue, it should stay in place.
RATE OF APPLICATION: Though the trap will generally hold up longer than one month, the pheromone will only work strongly for 30 days. Be sure to change them every 30-60 days to ensure fresh scent is always available.
$12.00   (749255) 1 Trap – 1 Lure (3+ $10.00 each)
Order online and save 5%