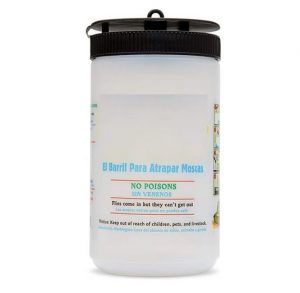 PRODUCT DESCRIPTION: This trap is a plastic jug which has a special sex pheromone/lure flies are attracted to. You place the trap in and around the home where flies are present. Once they smell it they will fly inside only to be trapped. The pheromone is activated with water and the liquid solution then drowns the flies when they land in it. The pheromone will remain active for up to a month. If the jug goes dry, simply add more water. The decaying flies along with the pheromones will continue to attract flies when you renew the water supply. When the jug fills with flies, throw it away and put out a new one.
WHERE TO USE IT: Inside and outside. It has a lid which protects it from the rain. When used inside, be aware that it has a strong smell. The best place to set them is away from where you want to be "fly free". The odor of the trap will keep flies away and the smell of the trap is so strong you won't like to be smelling it all the time.
RATE OF APPLICATION: As many as wanted. Generally one every 500 sq/ft of ground area will give you enough coverage.
OTHER FLY TRAP:       NATURAL CATCH FRUIT FLY TRAPS           STICK-A-FLY GLUE TRAP        MUSCA STICK FLY GLUE TRAP        WINDOW POWDER FLY TRAP   

$20.00   (823139)(3+ $18.00 ea)
Order online and save 5%