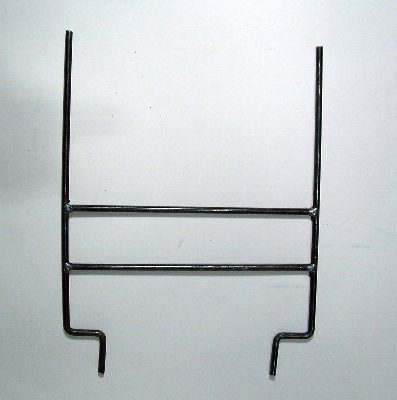 PRODUCT DESCRIPTION:   The Short Trap Stand can be used with either a 220 or 330 trap.  It is useful in keeping the trap in place and once the nuisance animal is caught since the stand is put in the ground it will keep the trap from being lost, very helpful when trapping Beaver.
The bottom side goes in the ground and the trap slides over the long top poles. Designed to keep traps anchored when submerged under water, this stand will allow you to maneuver the trap easily under water 12″ deep or less.
This stand can also be used on land in front of pass through holes (in fences), in front of bank dens or like bucket guards in front of baited containers.
FOR USE WITH:       BODY GRIP 220       BODY GRIP 280      BODYGRIP 330       CONIBEAR 220       CONIBEAR 280       CONIBEAR 330
OTHER TRAP STANDS:      18″ 220 – 280 – 330 TRAP STAND      20″ 330 TRAP STAND      WINDOW MOUNT STAND      46″ SUPER STAND
$6.00   (822687)(3+ $5.00 ea)

Order online and save 5%


INTERNATIONAL CUSTOMERS ORDER HERE
Supporting Video
[tubepress mode="playlist" playlistValue="F482A0B6950992E0″]