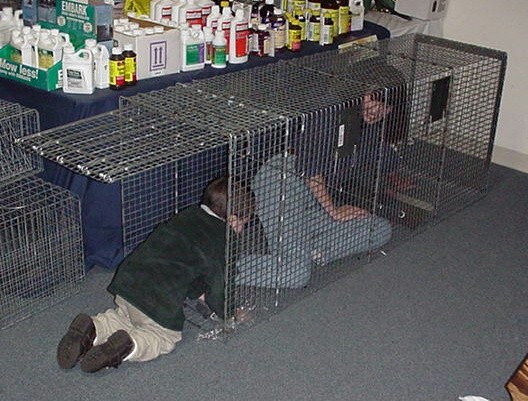 $575.00   (822145)
Order online and save 10%



TRAP DESCRIPTION:  20″ Wide x 28″ Tall x 72″ Long. With a sliding access door on the back of the trap. Made of 12 Gauge wire this is the Largest Trap Available. Like our other traps the sliding door makes it easy to bait and also for releasing and transporting the animals.
TARGET ANIMALS:  This trap is made for the big animals like wild hogs, mountain lion, wolves, cougars, fox, bobcat wolverines and more.
Attach one of our BAIT CAGES to the back section for extra fast results when trapping predators like cats. If you don't have easy access to live animals, use one of our LOW COST GREEN LIVE TRAPS to catch a squirrel or other small animal and use the trap (with the live animal in it) at the back of the trap.
WHERE TO USE IT: Anywhere the problem animal frequents.
RATE OF APPLICATION: One or more. This varies depending on the number of animals in the area, the number of locations you want to place the trap, and how quickly you want to remove the problem animals.


RELATED PRODUCTS:       LIVE TRAP 15″ X 22″ X 48″           LIVE TRAP 20″ X 28″ X 60″          LIVE BAIT CAGE
$575.00   (822145)
Order online and save 10%



*** This trap ships via common carrier and our cart is not able to calculate this fee since it varies all the time. But if you order this trap, we will email you a shipping invoice that can be paid using any major credit card or PayPal account. Upon payment of the shipping invoice, your trap will ship.  ***