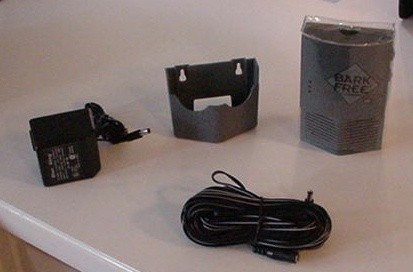 PRODUCT DESCRIPTION: Device which detects when dogs bark and releases either an audible or an ultra sound which they don't like. This sound is intended to be used as a training tool to stop the dog from this unwanted barking. Use it in the home to train your pet or use it outside to stop neighborhood dogs from barking. The sensitivity can be adjusted so you can make it turn on with just a minimum amount of sound. Try to keep it within the area of where the dog barking is happening. If in the home, this should be in the room where the dog is most likely to bark. If outside, try to locate it along property lines, fences or kennels where barking dogs are active. Once activated, the device will emit a sound which will have a range up to 50 feet (25 feet in either direction from where the unit is mounted) effectively distracting the targeted dog causing them to stop. Over time, the impact of the sound will change the dogs behavior.
WHERE TO USE IT: Along property lines where dogs are active and barking. It comes with a 50 foot wire and electric AC adapter. Plug it in and run the unit out up to 50 feet away from your power supply. It comes with a wall mounting bracket so you can secure it on the side of your home, garage, tree, pole, fence or any other stable structure. It is weatherproof, uses pennies of electricity a month and is adjustable. You can set it for audible sounding or ultra sound and you can adjust it to allow for some barking without activating the unit. This is handy if you want to allow the animal to bark in other areas but not directly at you while you are on your property.
RATE OF APPLICATION: Use one for every 25-50 feet of property line you need to cover.
$50.00   (747713)
Order online and save 5%


INTERNATIONAL CUSTOMERS ORDER HERE
Supporting Video
[tubepress mode="playlist" playlistValue="BF3CA417C567B83A"]