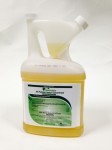 PRODUCT DESCRIPTION:    This versatile product qualifies as a "minimum-risk" under FIFRA and is therefore exempt from Federal EPA registration. However, Essentria All Purpose Insecticide is highly effective against a broad spectrum of insect pests. Its most commonly  used in automatic mosquito misting machines and replaces the original  which needed an emulsifier added to the tank mix. This new formulation includes everything you need so its the perfect product for fogging and misting when using an automatic machines.
Essentria All Purpose Concentrate is for use around the home, yard and garden and is labeled for use on both non bearing as well as fruit and vegetable bearing plants and trees.  

RATE OF APPLICATION: 1-10 oz per Gallon of Water depending on where you plan to treat, the target pest, etc. Please refer to the label for specific mixtures or send us an email asking what mixture to use. Retreat as needed for the first month until the problem is resolved; once the problem is under control expect to treat 1-2 a month during the targeted pest season and less frequently during the off season.
MIXTURE FOR AUTOMATIC FOGGING SYSTEMS:    Mixture rates for automatic fogging machine systems. You can mix as little as .5 oz per gallon of water so this a gallon jug can create as many as 256 gallons of mixed solution. At its maximum rate of 3 oz per gallon for automatic systems, you'll get a total of 42 mixed gallons per gallon of concentrate. We recommend starting with a 1 oz per gallon rate and adjust as needed.


RELATED PRODUCTS:          PUMP SPRAYER


DOCUMENTATION:        SPECIMEN LABEL       MSDS SHEET


$150.00   (807969) Gallon
Order online and save 5%


Supporting Video