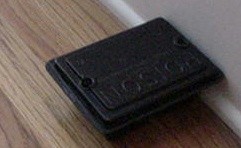 PRODUCT DESCRIPTION: Mouse bait stations are used to protect rodenticide from moisture and dirt. Each box is 6″wide by 4″ deep by 2 1/2″ tall. There are two compartments inside to place bait.
WHERE TO USE IT: In and around businesses and homes away from pets and children. If you are baiting in areas where pets or children might be active, use the tamper proof stations.
RATE OF APPLICATION: Depends on infestation or level of maintenance wanted. Try to place one every 5 feet.
RELATED PRODUCTS:        TAMPERPROOF RAT BAIT STATIONS        TAMPERPROOF MOUSE BAIT STATIONS       BAIT STATION STAKES         HERCULES PUTTY        TOP LOADING BAIT STATION         CABLE TIE FOR TOP LOADING STATION        RAT BAIT STATION        PRE BAITED MOUSE STATION        PRE BAITED RAT STATION 
BAIT OPTIONS:       RAT MOUSE BAIT BLOCKS        RAT MOUSE BAIT PLACE PACKS


$1.50   (287873)(6+ for $1.33 ea)
Order online and save 5%






INTERNATIONAL CUSTOMERS ORDER HERE