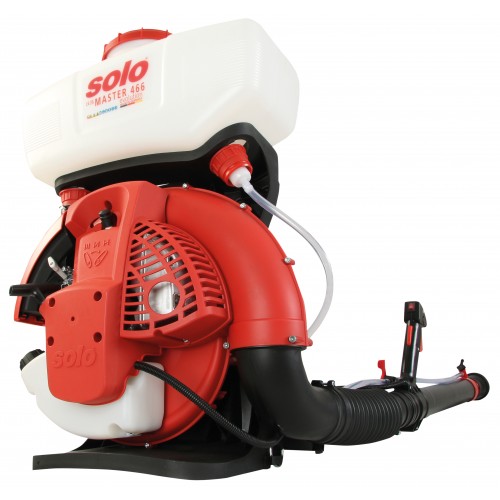 PRODUCT DESCRIPTION:    This is a gas powered back pack fogging machine which has a liquid tank that will hold 3.25 gallons. It is able to pump over 4 ounces of chemical per minute and is great for treating areas where no electricity is available. It's also handy for the applicator who has several locations to treat and needs portability. This sprayer is so powerful and efficient that once you start using it, you will never want to use a regular pump sprayer again!
Mist blowing is extremely effective on flying pests like mosquitoes, gnats, biting flies, midges, noseeums and more. You'll be able to treat large areas in no time, use less chemical and do a more thorough job compared to liquid spraying.
The Solo 466 is very much the "Cadillac" of mist blowers. Its easy to start, very powerful and comfortable to wear.
RATE OF APPLICATION: Adjustable rate of less than an ounce per minute to over 4 ounces per minute. Mist, fog and ULV capable. All tips are included. Can even apply dust. If this is overkill for your needs, go with our BUGSPRAY FOGGER or MINI MISTER.
$699.00  (283359)(FREE STANDARD SHIPPING – SHIPS IN 1 BUSINESS DAY)
Order online and save 10%


ALTERNATIVE FOGGERS:     MARUYAMA MIST BLOWER       GOLDEN EAGLE THERMAL FOGGER  
RELATED SPRAYERS:     6 GALLON HOSE END SPRAYER          20 GALLON HOSE END SPRAYER        SOLO 1 LITER SPRITZER       SOLO 2 LITER SPRITZER WITH 23″ EXTENSION        HUDSON ELIMINATOR 1 GALLON PLASTIC SPRAYER     SOLO STAINLESS STEEL 2 GALLON SPRAYER      26 GALLON POWER SPRAYING SYSTEM