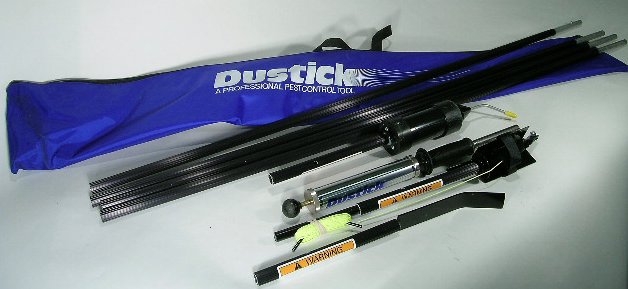 PRODUCT DESCRIPTION: Duster and Aerosol applicator which is able to reach over 25 feet up the sides of structures. The unit is over 21 feet long when fully assembled which means the average person is able to reach over 25 feet up.
Extra extension poles are available for even higher reach (ITEM 282261:  4 FT EXTENSION).
The DUSTICK comes with a pump handle which is used to blow dust out, 4 tube sections each of which are over 4 feet long each which fit together, the Dust Canister Top, the Aerosol Top and a carry bag.
When used to apply products like DRIONE or DELTAMETHRIN DUST, the "bicycle pump" handle is used to force air through the extensions which blows dust out the dust tank on top.
The Dustick Deluxe also includes the Aerosol Top which fits most any kind of Aerosol Spray like PT-515 WASP FREEZE,  PT-PHANTOM  or  DFORCE.  Using the included "pull string" on the Aerosol Top, you can manually operate the aerosol from afar enabling you to reach high places in excess of 25 feet.
The Dustick Deluxe also comes with a Scraper Top which can be used to scrape down old  wasp and bee nests.
This Deluxe Kit includes all of the following: DUSTICK (ITEM 282258), AEROSOL TOP (ITEM 282267) and the SCRAPER TOP (ITEM  282270).


RELATED DUSTICK KITS:     DUSTICK       DUSTICK/SCRAPER TOP KIT       DUSTICK/AEROSOL TOP KIT      DUSTICK AEROSOL POLE KIT      DUSTICK AEROSOL POLE AND SCRAPER KIT


RELATED DUSTICK PARTS:       4 FOOT EXTENSIONS       AEROSOL TOP      CANISTER CONE      CANISTER INJECTOR TIP      CANISTER CONNECTION ADAPTOR       DUST CANISTER           PUMP MECHANISM       PUMP O-RING      RUBBER STOPPER FOR DUST CANISTER       SCRAPER TOP


$395.00   (282269)
Order online and save 5%


Supporting Video