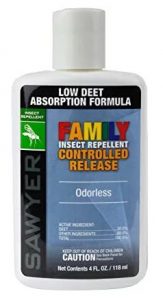 PRODUCT DESCRIPTION: The introduction of Controlled Release technology marks the most significant improvement in Insect Repellents since the advent of deet. Controlled Release 20% Deet Insect Repellent Lotion is a LOW DEET ABSORPTION FORMULA so it stays where applied and lasts longer. It's Non-greasy, has no alcohol, and is odorless. One application of Controlled Release formula can be effective for up to 11 hours against mosquitoes (including the transmitter of West Nile Virus ) and 17 hours against ticks.
WHERE TO USE IT: On your skin.
RATE OF APPLICATION: Generally 1-2 applications a day is usually all that's needed.
SUPPORTING DOCUMENTS:        SPECIMEN LABEL
OTHER INSECT DETERRENTS FOR CLOTHING AND SKIN:        MAXI DEET 98%      DEET LIQUID SPRAY 25%      PERMETHRIN READY TO SPRAY FOR CLOTHING     PERMETHRIN AEROSOL         BUG BANDS
$15.00   (745168)(3+ $12.00 ea)(FREE STANDARD SHIPPING)
Order online and save 5%