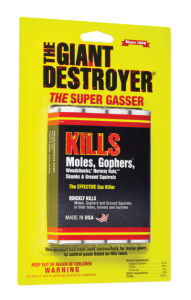 PRODUCT DESCRIPTION:   Sulfur sticks which have a fuse used to ignite them. They release a strong sulfur gas which can lead to the death of small rodents when they are unable to get fresh air if exposed to a lot of the sulfur at one time.
When using them in the yard to treat invasive tunnels, try to seal all holes so the "smoke" stays down the ground as much as possible.
The following "short video" (less than 60 seconds long) shows how to properly use one:
WHERE TO USE IT: In the animals burrows, dens and tunnels. Just don't use them under a slab home as the smell will permeate up top to living spaces and be stinky.
RATE OF APPLICATION: One stick per burrow usually does it unless its being used for large animals. In general, using this "alone" will provide repellent action for a month or two. Using them in conjunction with our GROUND STAKE SOLAR POWERED REPELLERS is best since the repellers offer long term "permanent" control.
PRODUCT DOCUMENTS:       SPECIMEN LABEL 
$12.00  (4 Pack Card so 4 Sticks and Fuses)(743060)(3+ $10.00 ea)
Order online and save 5%


Supporting Video