Dear Friends,
It appears that we have crickets coming through our shower drain. Do you have any recommendations as to products that will solve this problem? We would certainly appreciate your comments. I will look forward to your email at your earliest opportunity. Thanks so much. Jack S.
Jack,
There is a wide range of insects that can live in drain lines. Typically they're living in the city drain line system down by the public road or in your septic tank if your home utilizes this waste line option. Organic matter we call "waste" is food for a wide range of insects and crickets are one species that will capitalize on the offer!
Once established in a septic or sewer drain outside the home, it's only a matter of time before some forage up your home's main drain line and from there, enter through sinks, tubs or shower drains.
In some cases, there will be adequate waste buildup on the interior walls of the your pipes, elbows or other drain line joints which can allow them to nest. If that happens, you'll have ongoing issues as populations get established throughout the year.
To remedy the problem and keep it from happening, there are two treatments. One works for long term prevention and the other, for the immediate activity.
So for long term control, you should pour 3-4 oz of SURVIVORS down the drain once a week in the evening, just before you retire, so the treatment can work overnight. Survivors will eat away their food accumulating in the drain and by doing so, stop new ones from coming close to inside areas.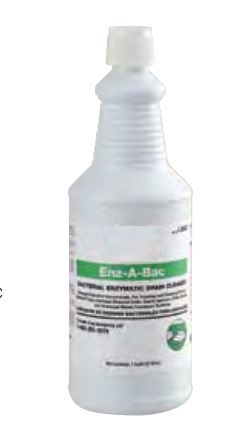 For the current problem, treat at least 3 weeks in a row. And if they're gone after 3 weeks, applying Survivors every 3 months should prevent new infestations.
To kill the ones already there (Survivors only works on their food, not the actual insect), you'll need to spray VIA AEROSOL down the drain any other night in the week that you don't use the Survivors. VOa works by killing active insects and will do so quickly. In general, one application will kill what's active but if you see more crickets following the first treatment, treat that same evening until you don't see anyagain. And for the initial problem, plan on treating at least 3 times (just like the Survivors) so you kill all up close to living areas.
To treat, you'll want to use the included injecting straw we send for the Via and you'll want to direct a 6-8 second spray directly down the drain. Via has a "slight" odor but will work quickly for any insect in the zone you treat. And like the Survivors, treating every few months will only help prevent new infestations from forming but won't be needed if you are using the Survivors.
Technical Support
U-Spray Bugspray
1-800-877-7290