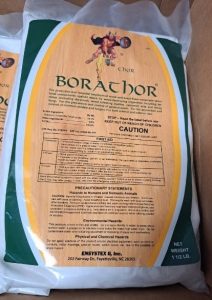 PRODUCT DESCRIPTION:   Borathor is an odorless white powder which you mix with water and sprayed on wood to protect it from fungus and wood eating organisms. Its ideally suited for crawl spaces, attics, sheds and mulch areas where pine straw or wood chips are kept.
WHERE TO USE IT: Damp crawl spaces are a great place to apply Borathor since it will prevent the growth of organic molds, mildew and decay fungus which would ultimately destroy the wood it grows upon. Mushrooms and other fungi can live in moist wood not to mention it will attract a range of pests like termites, carpenter ants and more
RATE OF APPLICATION:   Mix .5 lbs with one gallon of water and spray over 500 sq/ft. Our 1.5 lb bag will make 3 gallons.
RELATED PRODUCTS:          PUMP SPRAYER
PRODUCT DOCUMENTS:       SPECIMEN LABEL       MSDS SHEET
$15.00   (459247) 1.5 lb (3+ $13.00 ea)
Order online and save 5%