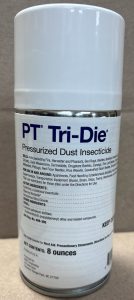 PRODUCT DESCRIPTION: Drione is a low odor dust which is white and works as a desiccant on insects. Once on them, Drione cuts away at their exoskeleton and then robs them of vital moisture. This unique formulation will last over a year in treated voids. Drione is very safe to use and works mostly by dehydrating insects and not chemically like other pesticides.
KILLS: Ants, Bedbugs, Beetles, Bees, Booklice, Boxelder Bugs, Cadelles, Centipedes, Cheese Mites, Chocolate Moths, Cigarette Beetles, Clover Mites, Cluster Flies, Cockroaches, Confused Flour Beetles, Crickets, Dark Mealworms, Dermestids, Drugstore Beetles, Earwigs, Elm Leaf Beetles, Firebrats, Flat Grain Beetles, Fleas, Grain Mites, Grain Weevils, Granary Weevil, Ground Beetles, Indian Meal Moths, Lice, Mealworms, Millipedes, Pillbugs, Red Flour Beetles, Rice Weevils, Sawtoothed Grain Beetles, Scorpions, Silverfish, Sowbugs, Spiders, Termites, Ticks, Trogodermas and Yellow Mealworms.
RATE OF APPLICATION: Short "releases" are all that's needed directed into cracks and crevices where target pests are living or hiding.
PRODUCT DOCUMENTS:       SPECIMEN LABEL       MSDS SHEET
$25.00  (8 oz can)   (451276)  (3+ Cans $20.00 ea.)
Order online and save 5%






If you have a lot of holes to treat, you may want to consider the bulk size: DRIONE DUST 1 LB




Supporting Video