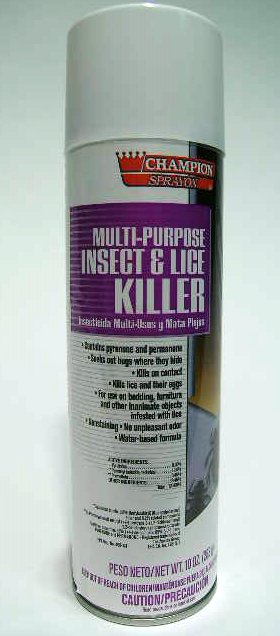 PRODUCT DESCRIPTION:    Multi-Purpose Insect, Flea and Lice Killer protects against ants, cockroaches and houseflies for up to 12 weeks.
Water-based, non-staining formula labeled for surfaces and space spraying.
Sprayed indoors it kills ants, bedbugs, carpet beetles, centipedes, cockroaches, crickets, firebrats, fleas, millipedes, palmetto bugs, pill bugs, scorpions, silverfish, sow bugs, spiders, ticks (including adults and larvae of those which may cause Lyme disease, and water bugs, as well as flying insects such as bees, blackflies, blowflies, cluster flies, fleas, fruit flies, gnats, hornets, houseflies, lice, mosquitoes, skipper flies, small flying moths, and wasps. Use it outdoors to kill ants, centipedes, cockroaches (including Asian cockroaches), crickets, mole crickets and silverfish, and flies, gnats, hornets, mosquitoes, small flying moths, yellow jackets and wasps.
FEATURES:
Multi-purpose flying and crawling insecticide
Seeks out bugs where they hide
Niche kills: Fleas, ticks, bedbugs, and lice and their eggs
12-week residual for ants, cockroaches, houseflies, maggots and more
Non-staining water-based formula – ideally suited for walls and ceiling treatments
Pleasant cedar scent
Actives: Mixture of natural pyrethrins and a synthetic pyrethroid, Permethrin
RECOMMENDED USES:   Ideal for carpeting, hardwood, tiled or linoleum floors, garbage rooms, lavatories, floor drains, home entries, vestibules, offices, locker rooms, machine rooms, boiler rooms, garages, mop closets and storage. Safe for use on pet bedding, clothing and furniture.
Also labeled for use as a "space spray".
Light Cedar aroma allows applicator to know where its been applied. Odor dissipates rapidly.
COVERAGE:   Each can will cover up to 1,000 sq/ft of surface area. For small jobs and spot treating, this formulation is well suited for the job. For large jobs, consider the liquid option.
PRODUCT DOCUMENTS:       SPECIMEN LABEL       MSDS SHEET
$25.00 (10 oz can)  (451240) (3+ Cans $20.00 ea)(FREE STANDARD SHIPPING)
Order online and save 5%


Supporting Video