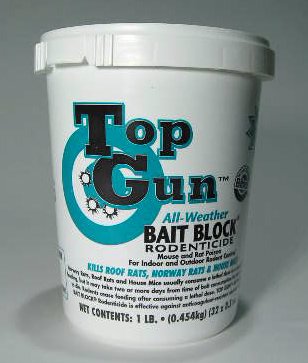 PRODUCT DESCRIPTION: Bromethalin Bait Blocks are a solid cake which rodents love. This is a new active ingredient which works quickly. Rodents will start dying within 48 hours; some even faster. This unique formula combines both a stop feed action, which prevents bait hoarding, and great acceptance. Comes in a resealable plastic tub which will keep bait fresh and new.
Top Gun is a professional rat rodenticide containing Bitrex. If your looking for a professional rat bait to control your indoor or outdoor problem, look no further than Top Gun.
TARGET PESTS: Rats and Mice.
WHERE TO USE IT: In and around businesses and homes away from pets and children.
RATE OF APPLICATION: Depends on infestation. Be sure to have enough. Place 1-2 ounces every 10-20 feet for mice and more for rats.


RELATED PRODUCTS:        TAMPERPROOF RAT BAIT STATIONS        TAMPERPROOF MOUSE BAIT STATIONS       BAIT STATION STAKES         HERCULES PUTTY        TOP LOADING BAIT STATION         CABLE TIE FOR TOP LOADING STATION        RAT BAIT STATION        MOUSE BAIT STATION        PRE BAITED MOUSE STATION        PRE BAITED RAT STATION 


OTHER BAIT OPTIONS:        RAT MOUSE BAIT PLACE PACKS


PRODUCT DOCUMENTS:       SPECIMEN LABEL       MSDS SHEET


$50.00  4 lb pail (128 1/2 oz blocks)(151176)(3+ $45.00 ea)(SALE PRICE $44.00)
Order online and save 5%