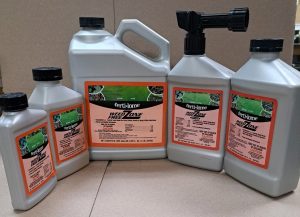 PRODUCT FACTS:  This Trimec product is a combination of four proven Weed Killers: 2,4-D, mecoprop-p, dicamba and carfentrazone-ethyl. Postemergent applications of this product will control a wide range of broadleaf lawn weeds in residential lawns including Dandelion, Chickweed, Spurge, Pennywort (Dollarweed), Knotweed, Plantain, Clover and Ground Ivy (Creeping Charlie). This product offers these advantages:
• Rapid and effective Weed control for common and troublesome Weed species in turf grass.
• Fast acting with evidence of injury within hours. Generally the injury symptoms can be noticed within hours of the application and plant death can occur within 7 – 14 days.
WHERE TO USE:  This product is intended for use on most Ornamental Lawns including:   Kentucky Bluegrass, Perennial Ryegrass, Tall Fescue Red, Fine Leaf Fescues, Colonial Bentgrass, Mixtures of Cool Season Species, Common Bermudagrass, Hybrid Bermudagrass, Bahiagrass,  Zoysiagrass, Buffalograss, St. Augustinegrass and even Centipedegrass.
GRASSY WEEDS CONTROLLED:   Crabgrass, large and smooth, Foxtail, green, yellow and giant and Signalgrass.
BROADLEAF WEEDS CONTROLLED:   Aster, White Heath And White Prairie Bedstraw Beggarweed, Creeping Bindweed Black Medic Broadleaf Plantain Buckhorn Plantain Bull Thistle Burclover Burdock, Common Buttercup, Creeping Carpetweed Chickweed, Common Chicory Cinquefoil Clover Compassplant Curly Dock Dandelion Dayflower Deadnettle Dock Dogfennel English Daisy False Dandelion (*Spot- ted Catsear And Common Catsear) Field Bindweed (*Morningglory And Creeping Jenny) Field Oxeye-daisy (*Creeping Oxeye) Filaree, Whitestem And Redstem Florida Betony Florida Pusley Ground Ivy (Creeping Charlie) Groundsel Hawkweed Healall Henbit Innocence (Blue-eyed Mary) Lambsquarters Lawn Burweed Lespedeza, Common Mallow, Common Matchweed Mouseear Chickweed Old World Diamond Flower Oxalis (*Yellow Woodsorrel And Creeping Woodsorrel) Parsley-piert Pennsylvania Smartweed Pennywort (*Dollarweed) Pepperweed Pigweed Pineappleweed S Plantain Poison Ivy Poison Oak Prostrate Knotweed (*Knotweed) Puncturevine Purple Cudweed Purslane Ragweed rattlesnake Weed Redweed Red Sorrel (*Sheep Sorrel) Shepherdspurse Spotted Spurge Spurge Thistle Veronica (*Corn Speedwell) TORAGE AND DISPO Virginia Buttonweed White Clover (*Dutch Clover, Honeysuckle Clover, White Trefoil And Purplewort) Wild Carrot Wild Garlic Wild Geranium Wild Lettuce Wild Mustard Wild Onion Wild Strawberry Wild Violet Yarrow Yellow Rocket.
RATE OF APPLICATION: When mixing up single gallons for spot applications, add .75-1.5 oz per gallon of water per 1000 sq/ft of turf. The 8 oz size will treat up to 5,000 sq/ft of cool season turfgrass and up to 10,000 sq/ft of warm season turfgrass. The Quart RTS will treat over 20,000 sq/ft of cool season turfgrass and over 40,000 sq/ft of warm season turfgrass.
RELATED PRODUCTS:            PUMP SPRAYER
PRODUCT DOCUMENTS:       SPECIMEN LABEL     MSDS SHEET 8 oz    MSDS SHEET RTS qt.

$25.00  8 oz (954288)(Covers up to 5,000 sq/ft)(FREE STANDARD SHIPPING)
Order online and save 5%



$45.00 16 oz (954298)(Covers up to 10,000 sq/ft)(FREE STANDARD SHIPPING)
Order online and save 5%


$60.00 32 oz (954299)(Covers up to 20,000 sq/ft)(FREE STANDARD SHIPPING)
Order online and save 5%


$210.00 128 oz (954295)(Covers up to 2 Acres)(FREE STANDARD SHIPPING)
Order online and save 5%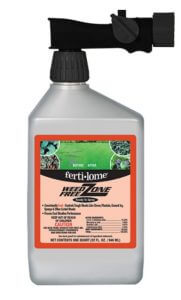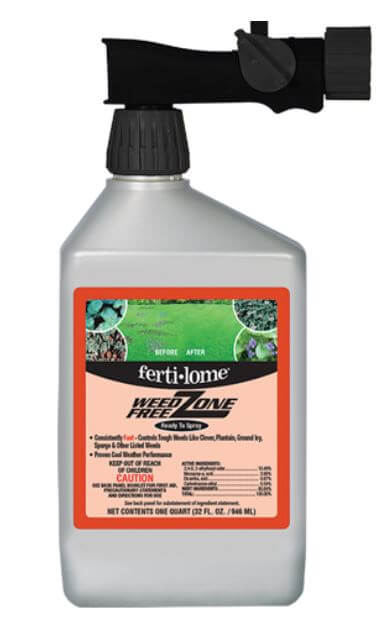 $60.00  Qt RTS (954289)(1/4 – 1/2 Acre)(FREE STANDARD SHIPPING)
Order online and save 5%


Supporting Video