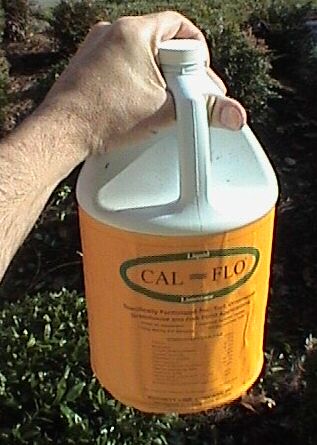 PRODUCT DESCRIPTION: Liquid form of the most commonly used material for PH control. Generally applied as either a powder or pelletized, liquid lime is highly concentrated and will affect the local PH measurement quickly. This gets you fast results and saves time "waiting".
WHERE TO USE IT: In soil that needs to have a PH adjustment. Since lime will help to raise PH, use when an acidic condition is prevalent. Liquid lime can be applied to grass, mulch, pine straw, flower beds, potted plants and basically any where soil exists that needs to be adjusted.
RATE OF APPLICATION: 1 gallon will treat up to 17,250 sq/ft of turf which is slightly more then 1/3 of an acre and will raise it a good .5-1.0 on the PH meter within 1-2 weeks.
The best way to apply the product is with a 20 GALLON HOSE END SPRAYER which will help deliver a lot of water with the Liquid Lime. Water is needed to get the product down into the soil where it interact with the acid.
Test your PH before treating and then 1 week later and then 2 weeks later. Generally speaking, the big "swing" or increase in the PH will happen within one week but it could take longer so waiting two weeks is best. If after two weeks you don't see your PH "move" enough, treat again.
Remember, PH is just a measurement based on the "balance" of the soils amendments. So if your total calcium carbonate is not high enough, it won't "hold" and why building your PH to at least 6.5-7.0 is smart. Keeping it this high by measuring your PH every 3 months will allow you to get "ahead" of any drops before they deplete your total carbonate levels.
RELATED PRODUCT:     20 GALLON HOSE END SPRAYER     SULFUR GRANULES

$65.00   (953257) 2.5 Gallons (covers up to 1 full acre)
Order online and save 5%


Supporting Video